Are you in the midst of home renovations? What areas have you done? What's still left on your to-do list? If you're a parent, I bet all the kid and family spaces are at the top of your renovation schedule. Having children often means you put yourself last…all the time. That was certainly true for Scott and Juliette. After three kids and four years of renovations to the home they bought as a foreclosure, Juliette realized it was time to press pause and focus on themselves for a minute or two. And that's how their complete master bedroom makeover was born. Juliette's single-handed labor of love transformed a once outdated space into a beautiful, functional, and meaningful room that they can enjoy each and every day. How'd she do it? We got the inside scoop…
What sparked the idea to do a master bedroom makeover?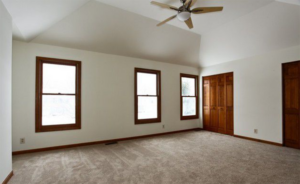 It all started with a simple comment from my husband. Last winter, I poured myself into decorating our soon-to-be-born daughter's nursery. He mentioned how he wished I would decorate our bedroom with just as much love and intention. That really made me pause. We'd spent so much time and energy on the rest of the house, and our bedroom just never seemed as important. So, I decided that I'd surprise him with a master bedroom makeover for our seven year anniversary. He was heading to China for work, so the timing was perfect.
How did you start?

After years of renovations, I learned that decorating choices become so much easier when you narrow the field. So, I began by choosing my color palette. Deciding on colors first removes 90% of what's out there. That may sound quite limiting, but it's actually one of the most freeing things you can do. You're able to make choices within boundaries–which helps you find what you love and have more fun! Personally, I went with white, gray, and yellow because it sets the tone I want for our room: relaxing softness with a hint of refreshment. There are also little touches of aqua here and there. That's merely because it's my favorite color. There's just no way I could leave it out!
What were your must-have features for the room?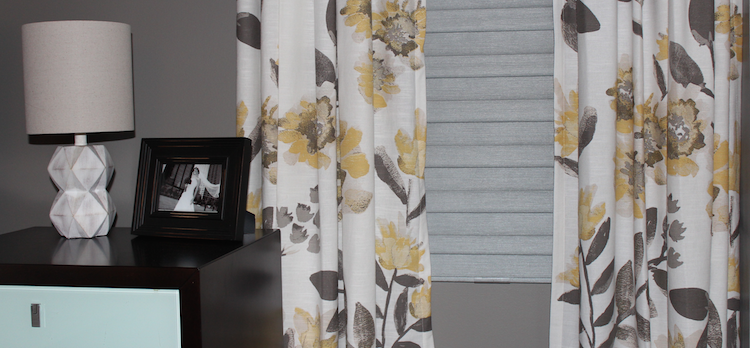 Room-darkening, energy-efficient shades were an absolute must-have for me in this master bedroom makeover. Sleep is essential in our household, so I definitely wanted shades that would create a gloriously dark and comfortable atmosphere. I went with Solera Shades, and I couldn't be happier! The layers of fabric are beautiful, and they provide all the benefits I could want…including being cordless (child-safe).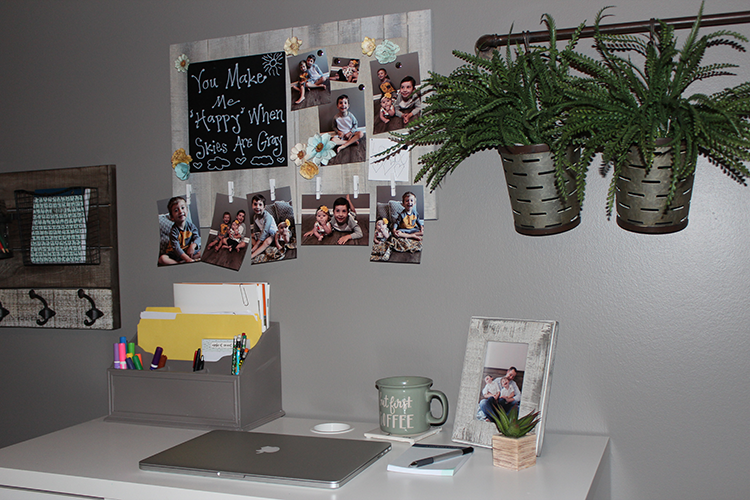 Another must-have was a minimal, functional office space. I work from home, but the room that most people would designate as an office is a playroom for us–which I love. I needed a small place where I could set up shop. Fully stocked with my work essentials, along with art supplies to entertain the frequent visits I get from my little ones, my office space feels perfect. Once I chose my color palette, I even did a little photo session with my kids so I could create a collage to incorporate into the design. Working is so much nicer when I'm surrounded by their smiles!
Tell us about your gallery wall!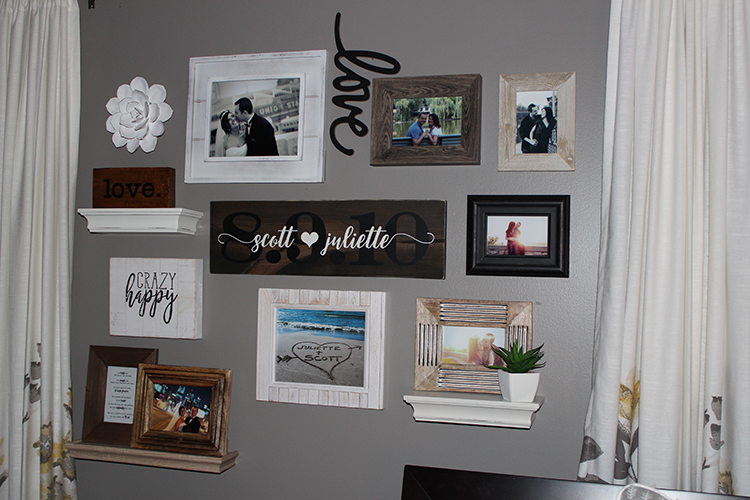 I really wanted the main focus of our room to be just "us." Having three kids, busy schedules, and seemingly endless renovations, so much of our life is about everything and everyone else. The gallery wall in our master bedroom makeover was my way of reminding us of who we are together. I can't even begin to total the hours I spent scrolling through photos from the past ten years and through pins on Pinterest. I was constantly reconfiguring the design on my floor until I decided it was just right. It took forever because of that cursive "love." It seemed like no matter what I did, it just wasn't going to fit…until I turned it on its side. Pure genius!
Do you have any advice for those considering home renovations?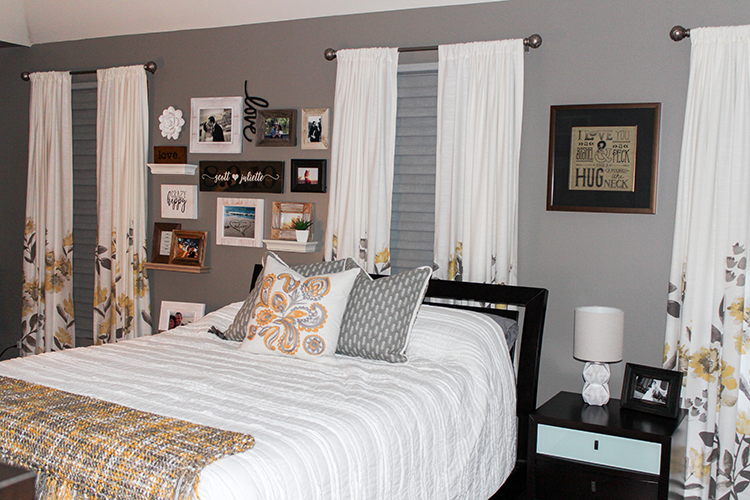 Yeah…just buy new. Ha ha! No, in all seriousness, I think the biggest piece of advice I can give is to take your time. Your home is forever a work-in-progress. Don't take on too much or stress about getting everything done. You'll just overwhelm yourself. Day-by-day and step-by-step has to be the focus. Be patient and trust the process. In the end, you'll be so much happier if your design elements are meaningful and what you love.