An open floor plan remains the preferred home layout of today. Homeowners enjoy the large, open space for its capacity to entertain a crowd and ability to be together as a family. But, as far as decorating this wide open space, it's not that simple. So, the design experts at California Window Fashions have gathered ideas to help you meet the challenge of decorating your open floor plan the perfect way + ideas for the right window coverings… 
Create Intimate Spaces
Sometimes, an open floor plan can feel more like an empty warehouse, not "homey" at all. Start by dividing the space into smaller areas. Do this by intentionally grouping furniture together in close proximity.  A couple chairs and table by a scenic window creates a sitting area and a desk and chair in a private nook creates a work space. Try using area rugs to define small spaces, this will help make your open floor plan feel a bit warmer.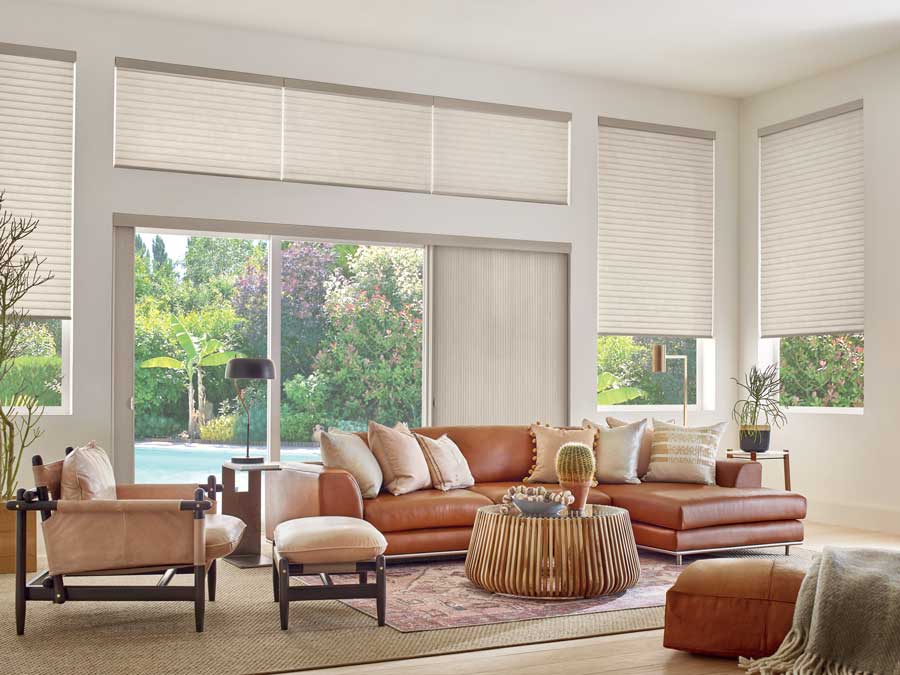 Keep It Flowing
Just because you have the square footage, doesn't mean you need to fill it unnecessarily. Remember, less is more, and allowing the room to flow nicely is a key component in home design. Be deliberate with furnishings and accessories and avoid too much clutter. Consider low profile furniture that supports an open concept home.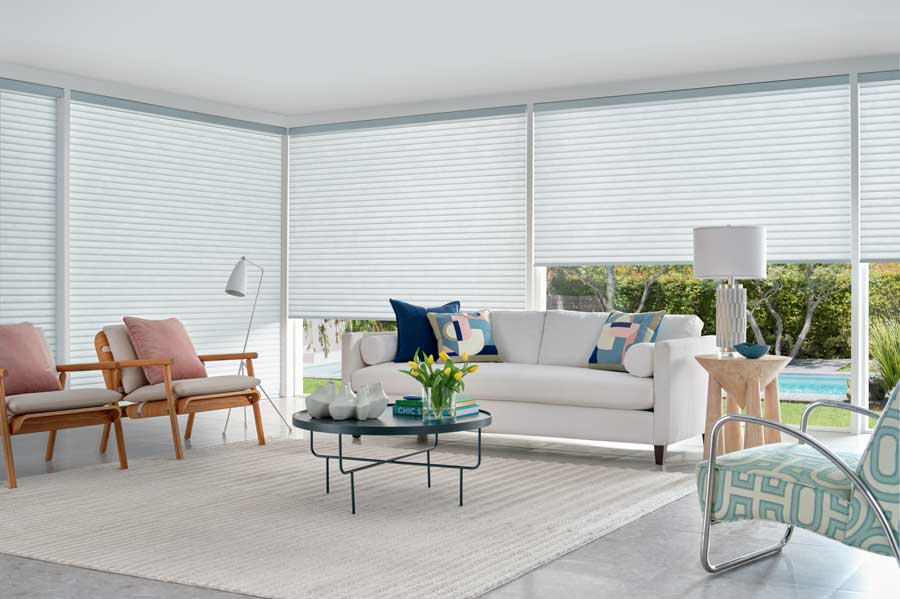 Stick to the Plan
All in all, when decorating an open floor plan it's best to keep the basic decor elements of the room the same. For example: Flooring, wall paint and furniture style should be similar throughout. An open floor plan is not the place to experiment with multiple styles all at once. By keeping your design choices the same, you'll achieve a unified look. Another benefit to sticking to the plan is the simplicity of decorating. When working with a limited palette, decor items become interchangeable and you can refresh the look of your space easily.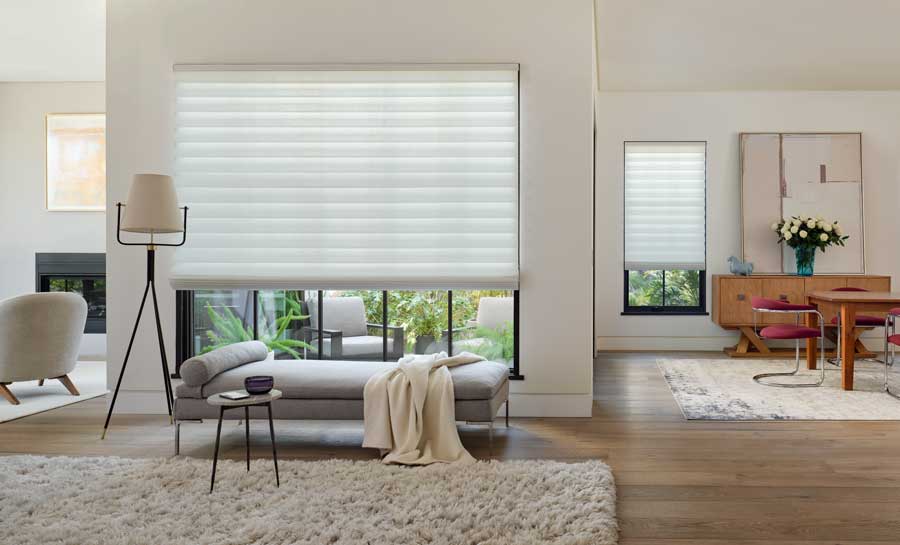 Create Interest with Lighting Zones
An open floor plan can also be enhanced with the right lighting. Sometimes, we like our home light and bright, but there are also times we prefer a warm, cozy setting. Other than the traditional overhead light, additional lighting sources can give you the flexibility you need to create dimension and make the room special. Consider creating lighting zones by including floor lamps or decorative sconces to your design. Don't forget handy additions such as timers or dimmer switches for added ambiance and convenience.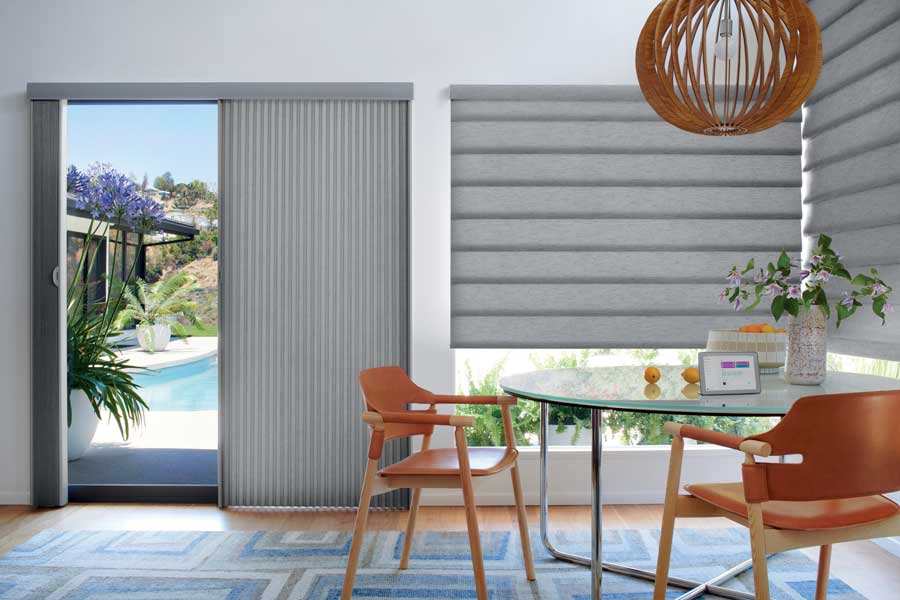 Window Treatments in an Open Floor Plan
From just one vantage point, you can see much of your home with an open floor plan. This means many windows and doors will be visible no matter where you stand in the home. The good news is that with such a variety of window covering options today, you can coordinate your treatments rather than using the same blinds throughout.  Your open floor plan will look connected and each window and door will be fit with the product that's right for it!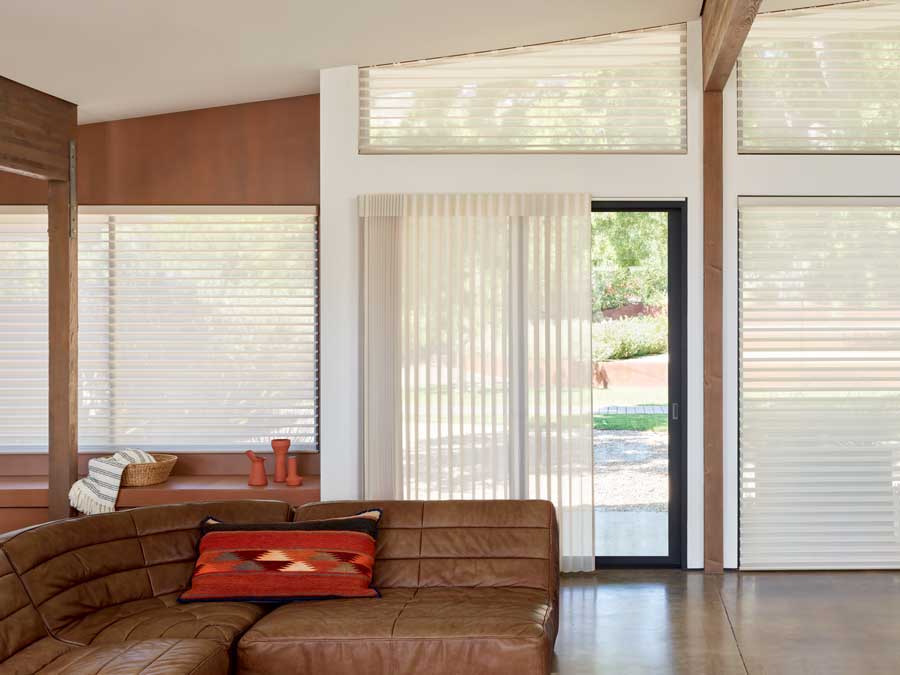 Added Energy Efficiency
With the design of an open floor plan, you can almost expect higher ceilings and tall windows. too. The trade off to an open concept home is making the expansive space comfortable throughout each season. In cooler months, we can experience drafty rooms. In the summer, multiple windows can magnify the heat and make it overwhelmingly hot. Because rooms are open to one another, it's difficult to contain these issues. We have found that energy efficient window treatments can help moderate the temperatures all year and save you money on utility bills.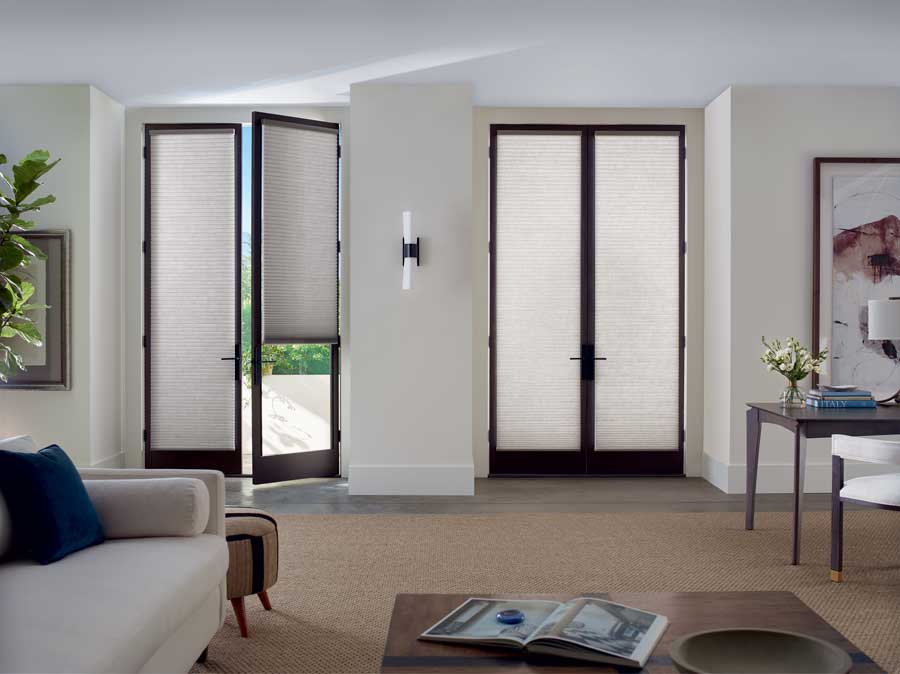 Allow our team to design the home of your dreams. With an open concept home, everything needs to flow. Our experts can coordinate window treatments in a way that looks professional, not "matchy matchy." With so many beautiful window treatment options, we can improve the function of your home and create a cohesive look fit for your open floor plan. Get in touch with us today for a FREE in-home consultation. Or, stop into our Roseville showroom to see our products up close.