Ready to begin your holiday shopping by making a tremendous impact? The #ShopSmall campaign kicks off this November 28th with Small Business Saturday. Started as a way for community members to show their support for the businesses that serve their neighborhoods, this well-established day has brought awareness to just how important small business is in this country. Do you have a business you love to support?
Why Shop Small?
Small businesses are the heartbeat of America. Those same business owners–whose shop or services you patronize often–live in your community.  Why does that matter? Their children go to school with your children. They drive the same streets that you drive. They want to keep their community–your community–safe, growing, improving. They are invested in the schools, the activities, the parks. They contribute their business' tax dollars and profits in support of the community where they live–where you live. When you shop small, you make a difference, not just in their lives, but in your life and your community. It matters. All of it.
And California Window Fashions?
We are proud to be a locally-owned and operated family business here in Roseville, CA. Our business is woven throughout our family–we know how important that can be. We know how important it is to have businesses you can trust, who treat you like you're family. Being in this business for over 13 years, we understand how important it is to support local businesses, and that's why we are kicking off this holiday season with this Shop Small campaign, encouraging each other to remember what makes our community, here in California, so great. It's the people, the community members, the small businesses that help us thrive. At California Window Fashions, we're excited to show you our new showroom, with amazing product demonstrations and beautiful finishings. Come on out and visit us on November 28th.
Small Business Saturday Makes a BIG difference.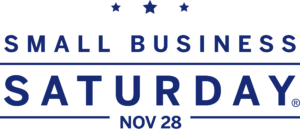 Shop Small this November 28th. It's a great way to kickstart the holiday season–visiting your favorite spots on Small Business Saturday. Not only are you purchasing gifts, services and items that are customized and hand-crafted, but you are investing in your own community with each and every dollar you spend. Rally together with other members of your community and make Small Business Saturday a huge success. And if you have a new project coming up, we'd love to help! We can help make your home beautiful with custom window coverings that offer style, light control, privacy and energy efficiency.  Contact our team, at California Window Fashions, for a free, in-home consultation.