If you've spent time scrolling through design photos lately, you might wonder just how designers do it. Has the dreary, wet weather of winter got you searching for inspiration that will lead to a refreshing change? Now's the perfect time to do some springtime decorating. But, what exactly are the tricks and tips behind those "stepped out of a magazine" room setting photos? Take a look at these springtime decorating ideas to create your own version of a refreshing, designer home…
What's Blooming?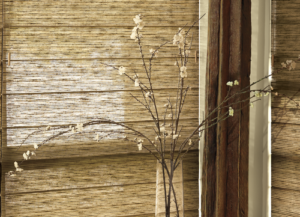 "Take cues from nature…"
Think about your favorite designer photos. Do you notice how the scenes always seem to incorporate the hues of the season to capture the perfect look? If you're in the mood to do some springtime decorating, and you want to add refreshment and revitalization, look to nature. What's happening right outside your windows? We all love the rustic oranges and browns of fall. And, of course, the gorgeous brights of summer add bursts of color. But in spring, the hues are soft and quiet. Spring's awakening will add a whisper of color with buds and the start of blooms. You'll feel refreshed, and so will your home.
How's the Light?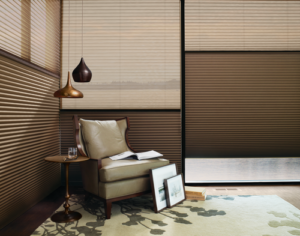 "The right atmosphere will transform your life…"
No one knows better than this part of the country…sunshine can be a blessing, but it can also be a curse. Light control is vital to creating the perfect atmosphere in your home. One way you can set your home up for ideal springtime decorating is by choosing the light control that will give you the best of all circumstances. Light that enters your home should be soft and filtered. Want that "magazine ready" look? It's the perfect balance of entering light and control–that fits your home–that will provide just the right scene.
How do you go about creating that perfect scene? What about your gorgeous view? You shouldn't have to sacrifice. With sheer shadings, you can have both light control and a view of the landscape. How about the direct sunlight of midday and late afternoon that heats up your home? By choosing energy efficient shades or shutters, you can direct the light so you embrace daylighting, while protecting your home from unwelcome heat and harmful UV rays. With the right window coverings, you'll be on your way to harnessing the energy and mood-enhancing light of the season.
What Design Elements Fit Your Personality?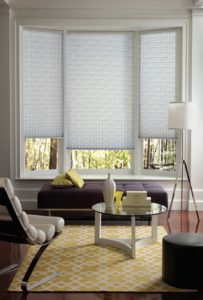 "Surround yourself with what you love…"
The great thing about springtime decorating is that it allows you to incorporate the latest trends. The start of a new season is when you can find new and uplifting colors, prints, textures and patterns to add an upscale look to your home. One thing to keep in mind as you consider your choices…be true to your personal style. You'll want to surround yourself with what you love. No matter how "put together" a design photo looks, you'll want to make sure the elements match your preferences. Love the fun patterns of geometrics? How about the elegance of damasks? Do woven textures bring the earthy feel you want in your home? Or should you opt for soft shades of creams and blues mixed with vintage accents?
You can't go wrong, as long as you're intentional about what you select: Make sure you add a color you love, at least one pattern for unique charm and some texture that brings dimension to the space. These three design elements will be a winning combination, no matter what your personal style is.
Need Organization?
"A place for everything…and everything in its place."
Of course you do. Who doesn't? If you've been looking through design photos for inspiration, you'll notice the same thing about each and every photograph. It looks like no one lives there. While there may be people who exist in the world that can keep their home looking immaculate, I certainly am not one of them. And, I'd venture to guess you aren't either. Don't worry. There's a reason home organization is one of the most searched categories on Pinterest. And while you may never achieve your goals of "everything in its place" organization, we can all learn something from those photos.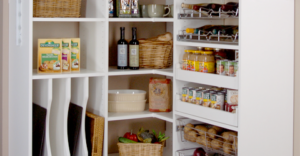 Rooms seems more relaxing when items are in their rightful spot. The less clutter, the more energy the room seems to have. When your space is "put together" you'll be in a better mood. There are two things you can do that will help you.
#1 Adopt a system that works for you. #2 Get rid of "stuff." Consider what is needed in your space, and create an environment where things have a correct spot. It will energize the space, and it helps a great deal when it's time to tidy up. Going through this process will lead you to the next–get rid of what you don't need. An important part of springtime decorating is this evaluation process. Don't hold onto things that have overstayed their welcome. Rid your space of clutter, and you'll be amazed at the feeling of rejuvenation it brings. Have you been thinking of adding a closet system? Do you need more space? At California Window Fashions, we can help! Take a look at our organizational systems to give your home that "everything in its place" feel you've been longing for!
Springtime Decorating: Let's Get Started!
Don't spend any more time sitting back and wishing your home looked more like those photos you've been scrolling through! Use these tips to get ideas about changes you'd like to make in your home as you start your springtime decorating projects. Our designers at California Window Fashions would love to be your personal stylist. We can help you with the design elements, light control, energy efficiency and lifestyle function you need with custom shades, blinds, shutters–and closets! Contact our team for a free, in-home consultation. Let us help you get started on the home of your dreams today!