It's summer, and that means things are starting to heat up outside. Are you in need of some refreshment? Grab a glass of ice cold lemonade, sit back in the comfort of your AC, and check out these summer style tips. They'll breathe new life into the look and feel of your home this season.
#1 Enjoy Vacation Every Day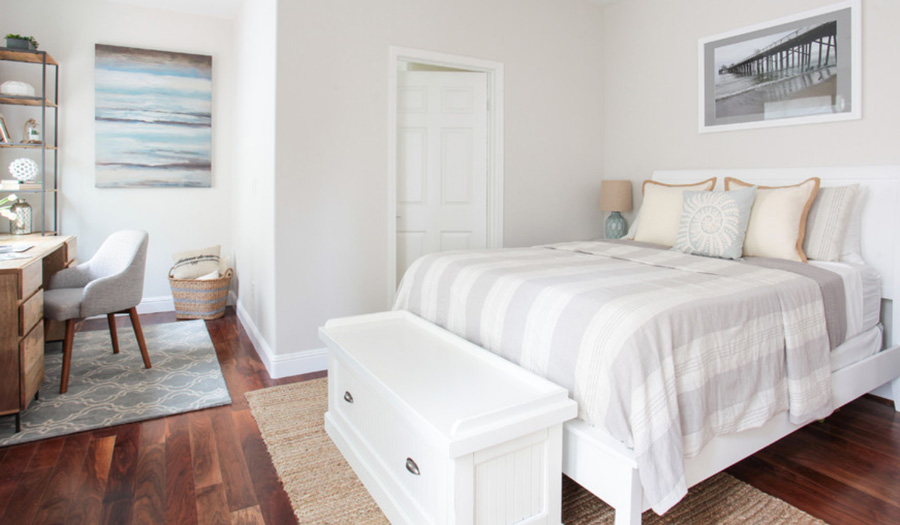 Summer is the perfect time to get away with your family and friends. And it's no secret that a good vacation is one of the best ways to restore your energy and enthusiasm. So, why not let vacation refresh your home too? While you're out and about, pop into local shops to find some one-of-a-kind pieces to add to your decor. Or, redesign a space with your favorite vaca destination in mind. This bedroom is a coastal dream! What will yours be?
#2 Embrace a Trend or Two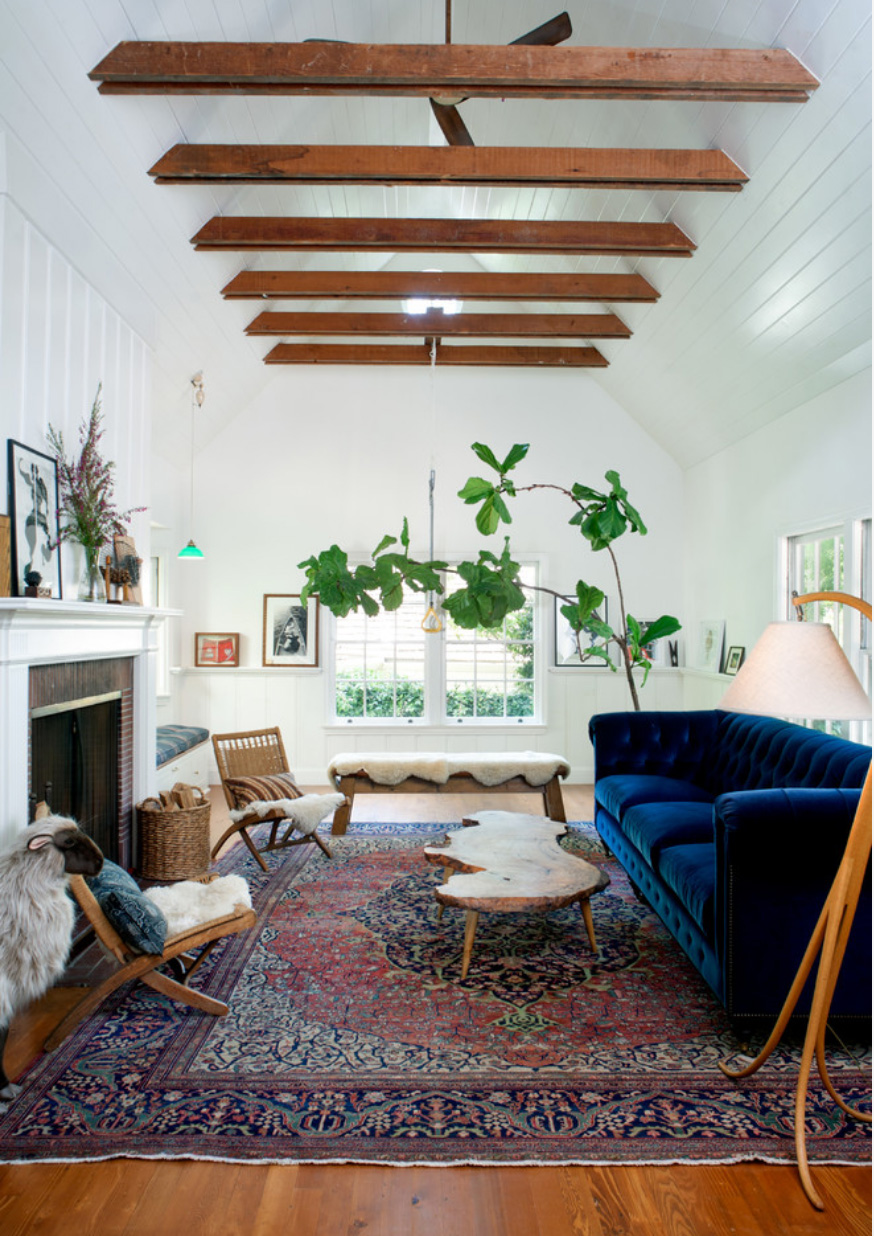 Ready to get trendy? The latest summer style trends will add depth, dimension, and fluidity to your home design. Curved furnishings and rough-cut wood are topping the charts right now. Warm wood tones with rustic finishes are beautiful ways to speak to nature and add comfort to contemporary rooms. And curves soften out the feel of more modern spaces. Combining these two trends, the liquid-like coffee table along with the arcing lines of the tree and lamp base help make this room simply gorgeous!
#3 Savor Seasonal Delights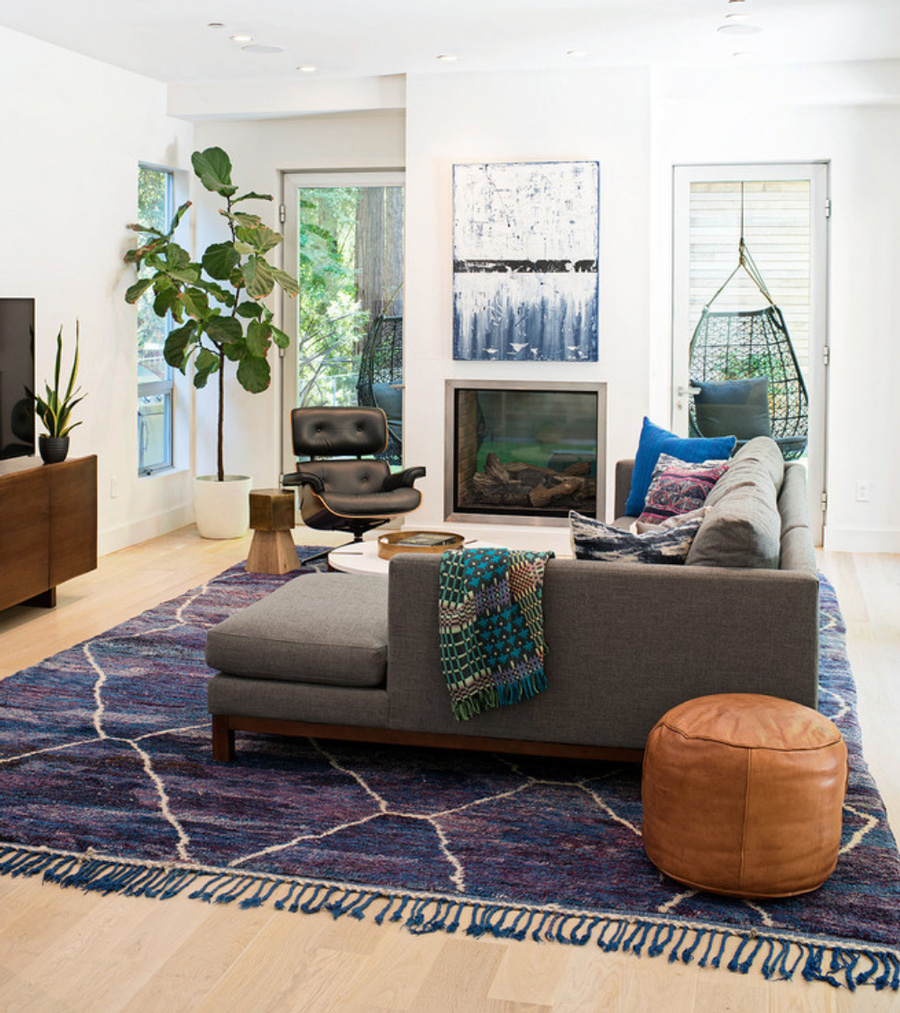 Each season brings its own beauty. Refreshing your home with summer style can be as easy as accenting with the colors and textures of the season. Whether you'll change things up when fall comes around or keep them to enjoy throughout the year is totally up to you! Cooling summer colors–like the shades of blue, indigo, and violet in this living space–will bring the essence of cloudless skies, lapping waves, and starry nights right into your home. And lush greenery and natural elements add restorative peace.
#4 Couch Shop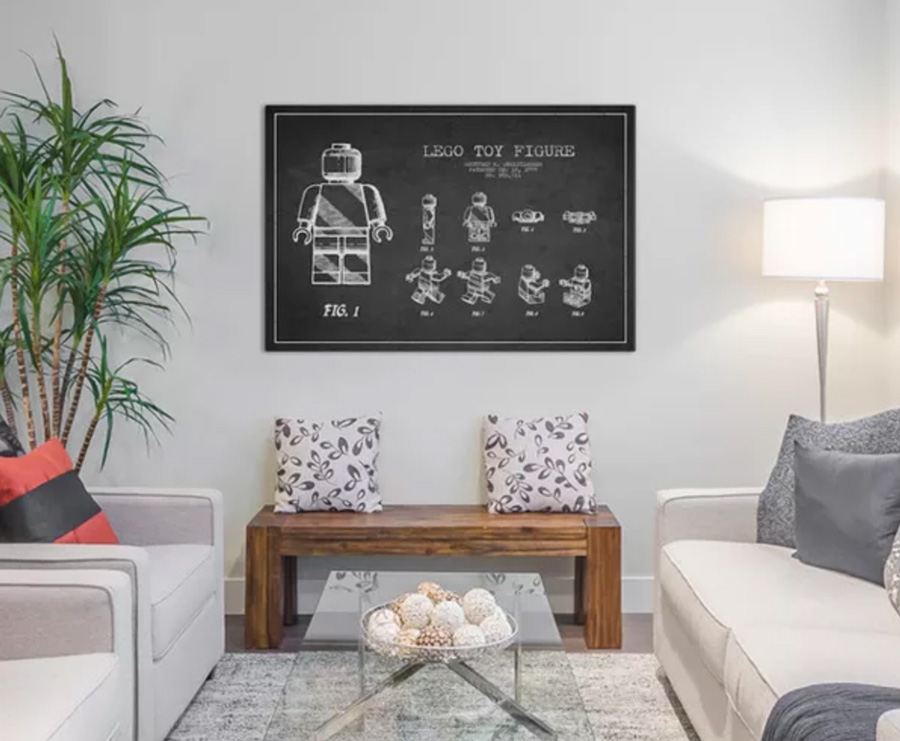 No, we're not talking about buying a new couch. Although, if you're in the market for one, by all means…. What we mean is shopping from the comfort of your couch! Finding accents you love is easier than ever online. You can get boutique-style curation with Amazon's Canopy. And Houzz offers products and substitutes for the very decor you see in your favorite photos. Discovering home decor gems for your summer style refresh, like this awesome Lego print, is just a click away!
#5 Copy a Style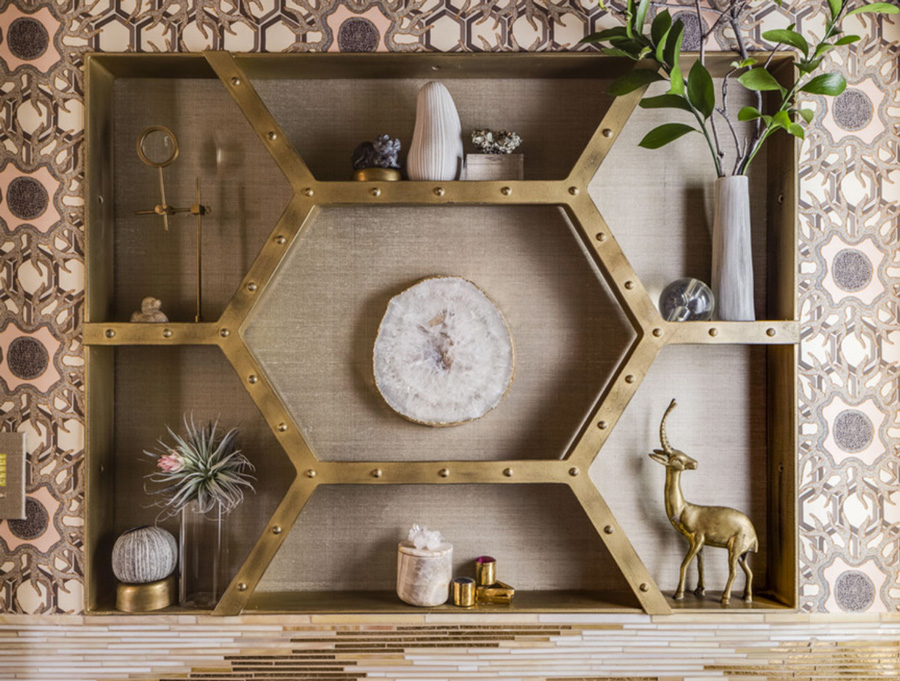 That's right. When it comes to decorating your home, copying can earn you a real A+! It's easy to get in a style slump, and sometimes the only way out is to recreate a look from a photo you love. Chances are, you've got a stockpile of saved photos on Pinterest or Houzz. Look through them and choose one that really speaks to you. Define exactly what you love, and then start planning and shopping. In the end, your result won't be exactly the same. You'll have your own custom look and refreshed style in your home.
#6 Live Smart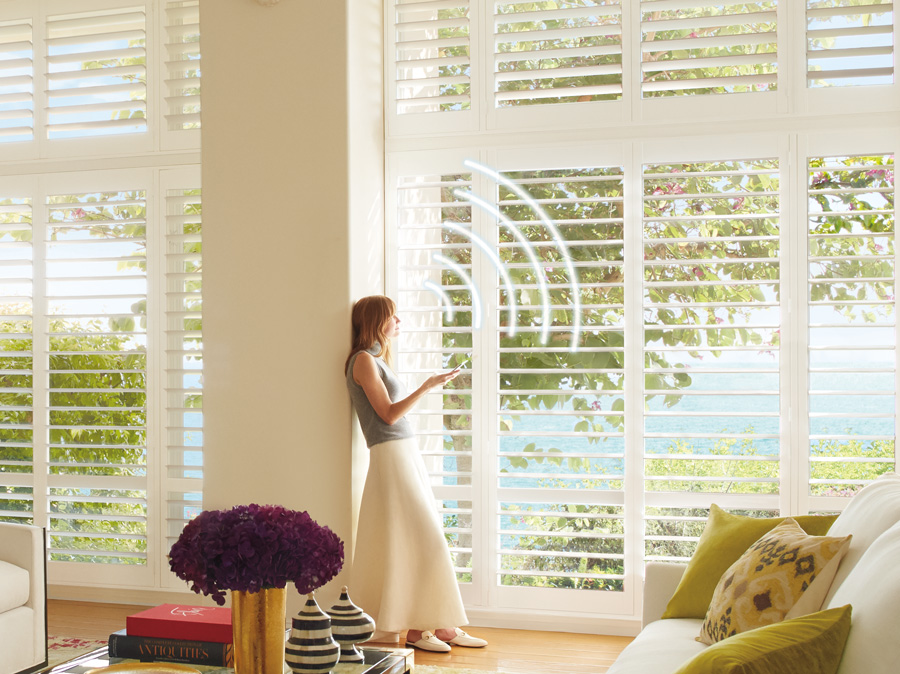 Want to pack your summer calendar with fun and adventure? Looking to schedule some serious time to relax? Go ahead! Enjoy every moment. That's what summer is all about! Your ticket to summer style living is living smart. Refreshing your home with the latest innovations in smart home technology gives you more time to do what you want to do. Hunter Douglas just added automated shutters to their list of products that can be integrated into your smart home system. Now, you can adjust your window coverings with voice-activated commands or at the tap of a button from anywhere in the world!
#7 Set a Summer Style Atmosphere
And since we're talking about window coverings, it's pretty much a given that summer comes with lots of sun and heat. You deserve a home that's outfitted with window coverings that offer the solutions and style you need for each and every room.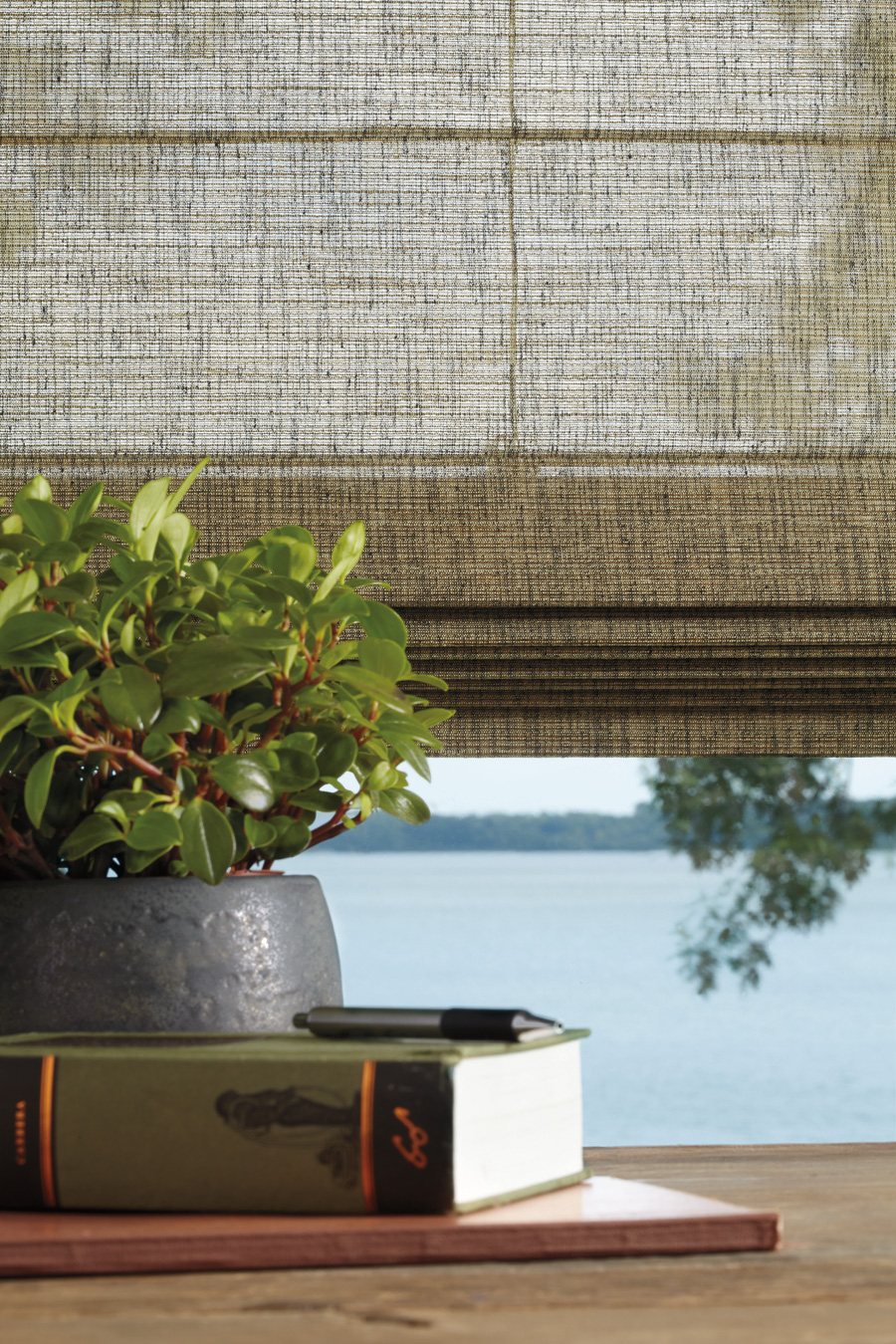 Our team, at California Window Fashions, can guide you toward window coverings that will up your summer style game and enhance the atmosphere of your home. Get in touch with us for your FREE, in-home consultation today!