Unparalleled style with incredible light control–that's the beauty of plantation shutters. Clean lines create an organized appearance in your home. The gorgeous view of your landscape offers a dynamic backdrop for your life. Who could ask for anything more? Well, that's just it. Plantation shutters are the essence of tradition and classic beauty. And, Hunter Douglas leads the market with the high quality you deserve and a warranty like no other. And with plantation shutters, that's important. The craftsmanship, durability and long-lasting style of Hunter Douglas plantation shutters is the key to their amazing reputation. Of course, the leading question is which type of shutters is the best for your home? You'll have to decide! Take a look at some frequently asked questions that we get as our clients are making their decisions.
What's Everyone's Favorite Plantation Shutter?
Top-of-the-line beauty and sophistication, Heritance Hardwood plantation shutters offer the height of customization. The genuine hardwood is styled with a vast selection of paints and stains, as well as your choice of six artisanal finishes, from specialty glazes to unique distressing. A variety of slat size sizes create just the finished look you've been dreaming of, allowing your view to remain breathtaking. What's special about them? They will add stunning style to your home, while also providing tremendous function–available with every option we offer for plantation shutters.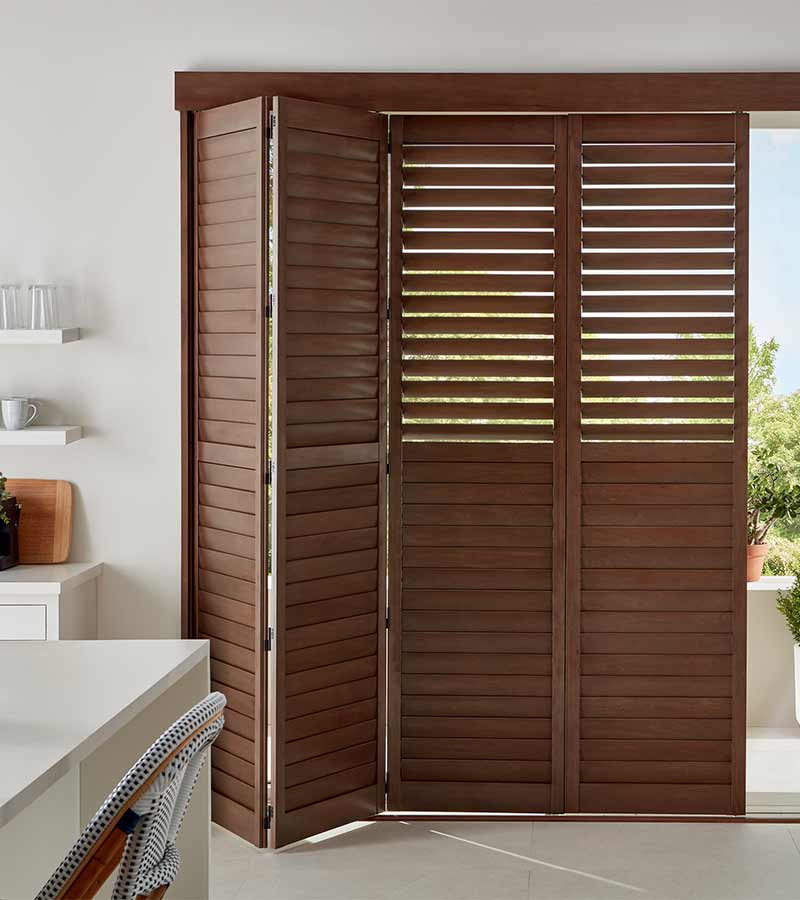 What If My Windows Are Different Shapes?
Plantation shutters are the perfect choice for what we call 'specialty shaped windows'. And shutters add a look to those shaped windows like no other product on the market. Whether your windows are curved, arched, rounded or angled, plantation shutters can be customized for your home. Create a specialty look with important function.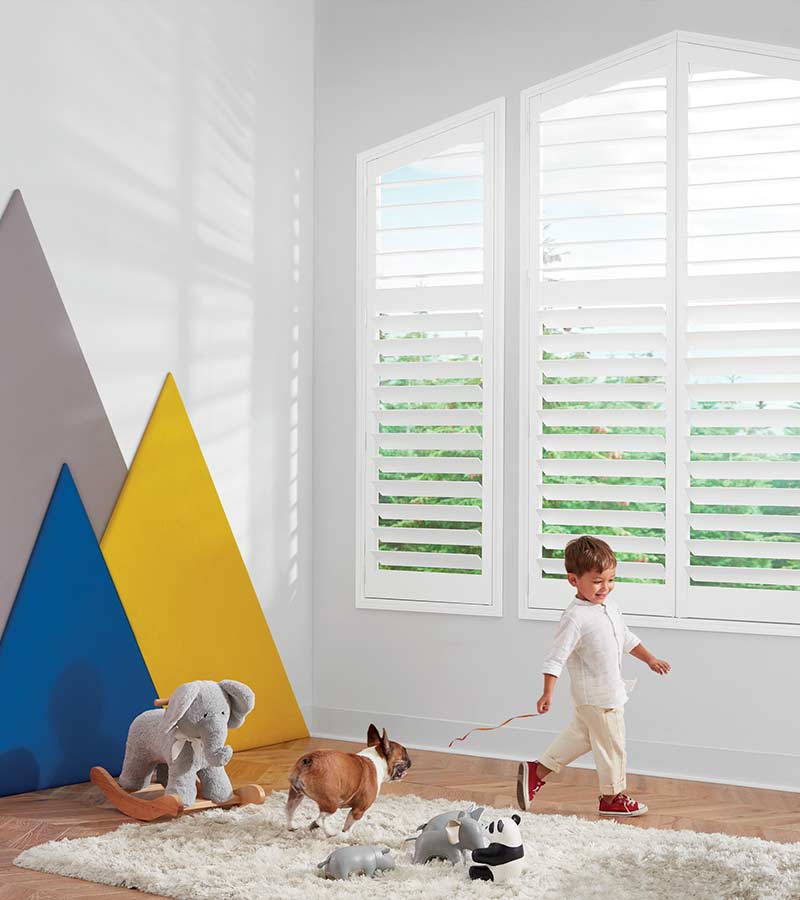 What Are the Best Shutters for the Bathroom?
We generally recommend our Palm Beach Polysatin shutters for the bathroom, as well as areas of high humidity. Moisture is an important consideration for plantation shutters, and the bathroom is one of those areas that sees a lot. Our Palm Beach shutters are a beautiful choice for any room in your home, but they were created for areas of intense moisture and humidity. They are guaranteed against the wear and tear you may see in your area, such as warping, cracking and discoloration. Available in our most popular 'whites', these plantation shutters offer a clean look and simplistic function for your home and bathroom.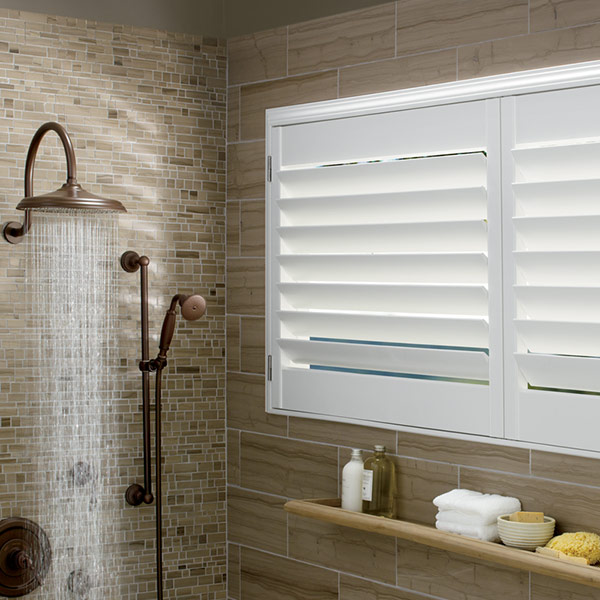 What's the Difference Between Front Tilt and Rear Tilt?
The traditional look of shutters generally features the 'tilt bar' that's used to adjust the shutters and runs down the middle. That's what we call 'front tilt'.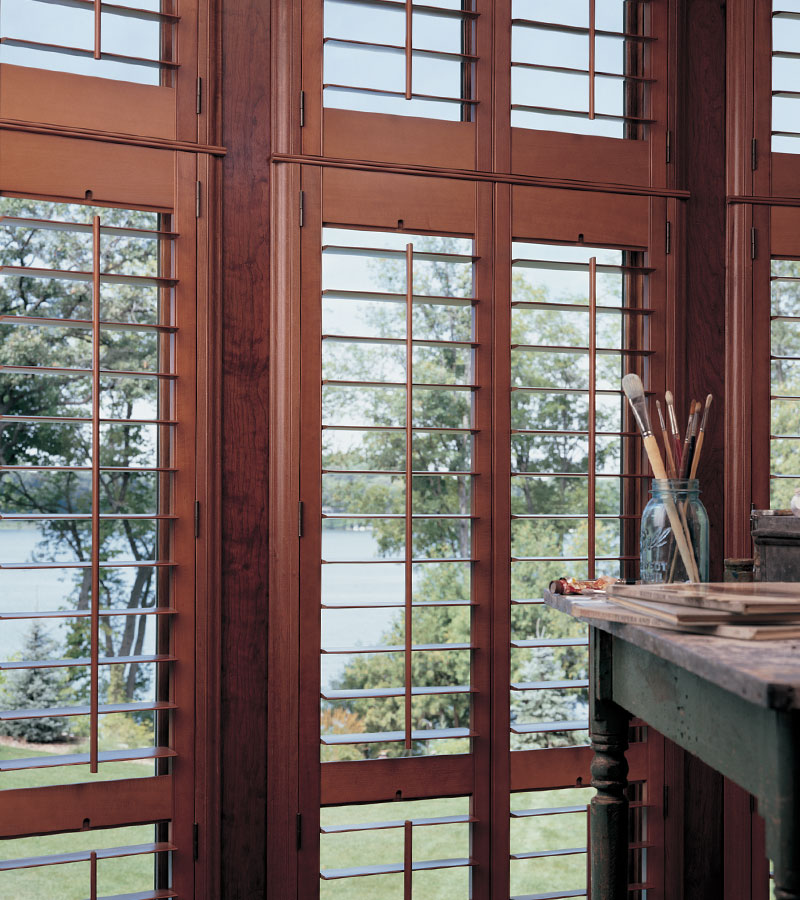 It's part of the classic look of shutters, and many of our clients prefer it to rear tilt, which offers more contemporary appeal. Rear tilt, otherwise known as Hidden Tilt, features a tilt bar behind the shutters and out of the way so it can't be seen. The benefit to the rear tilt bar is a more clear view-through. If your windows feature a grid, rear tilt might be a better choice for you in terms of an uncomplicated view. With rear tilt, you simply adjust the louvers instead of the bar.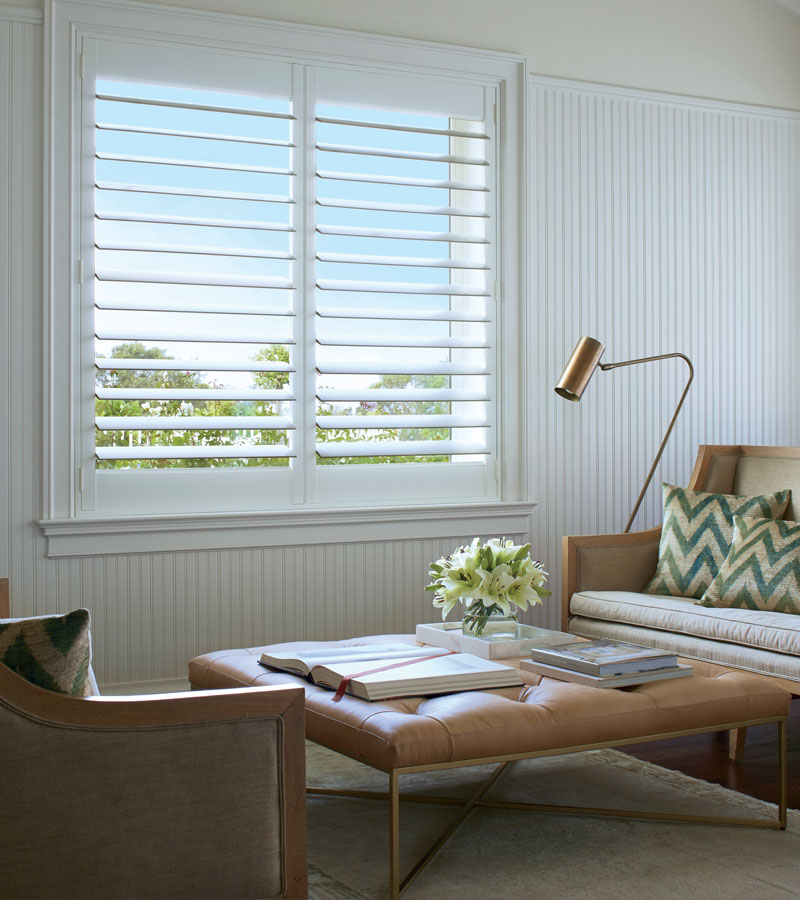 NewStyle Shutters Are More Affordable–Why Is That?
Window treatments are an important investment for your home, but we also know that you may be looking for an option that's more budget-friendly. Hunter Douglas introduced NewStyle Hybrid shutters–a combination of wood and man-made materials–as an option for long-lasting durability, but with a streamlined selection of choices to meet your needs. Offered in finishes of paints or wood grains, these plantation shutters will bring classic beauty and resilient materials for your home.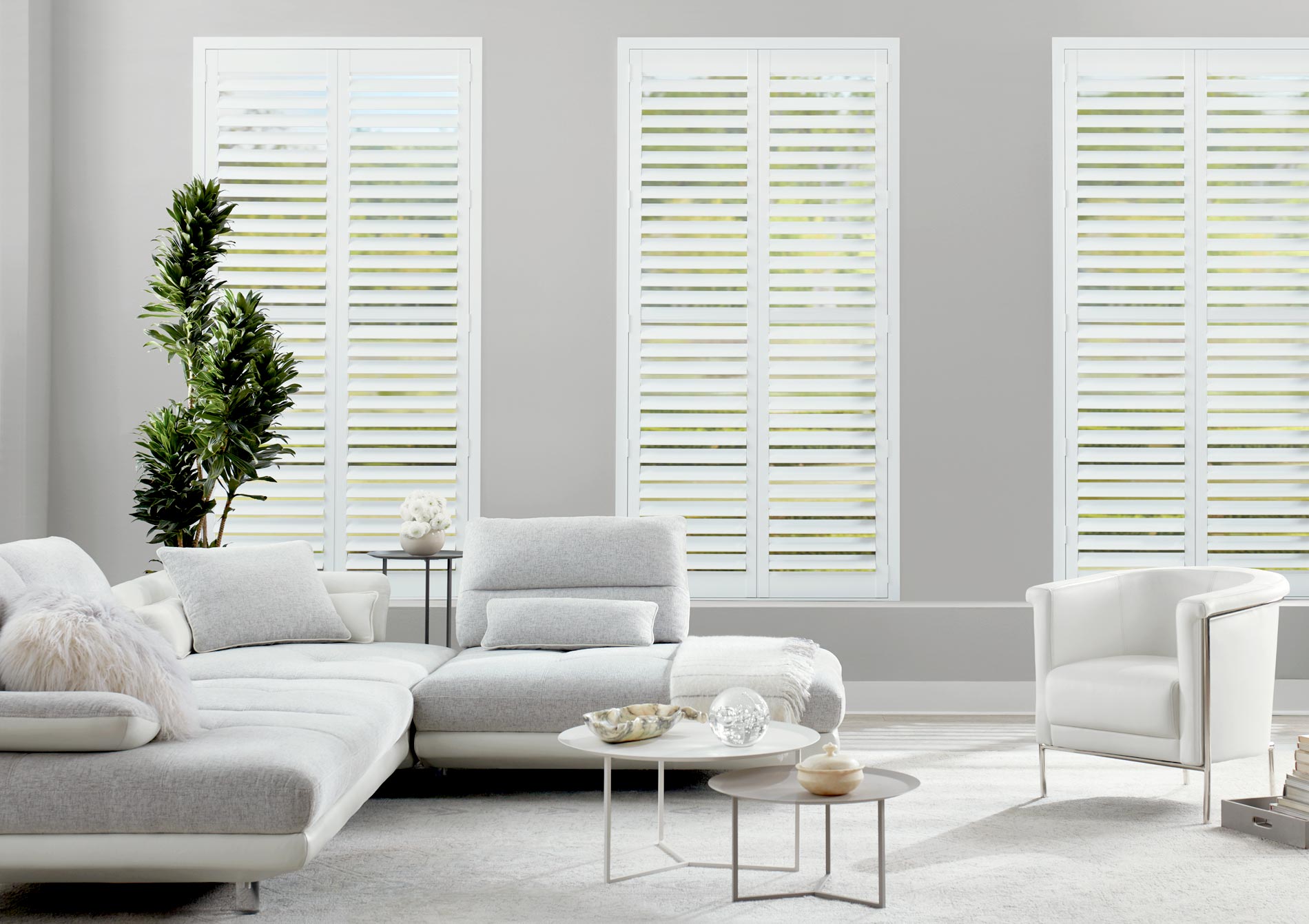 What Choices Do I Have for Operation?
Our plantation shutters come with a variety of operating systems. Hinged Panel, Bypass Track and Bi-Fold Track are available for shutters, with motorized shutters available exclusively for the Palm Beach collection. The hinged panels are the traditional look of shutters. Hinged to the window frame, they open and close for cleaning or maintenance. The bi-fold track allows up to six hinged panels to move along a track, for your large windows or patio doors. This look is similar to hinged panel shutters. The bypass track allows the panels of shutters to slide back and forth, one over or behind the other. Opening and closing with ease, they're often used for large windows and patio doors. All three of these options are available with each type of our plantation shutters.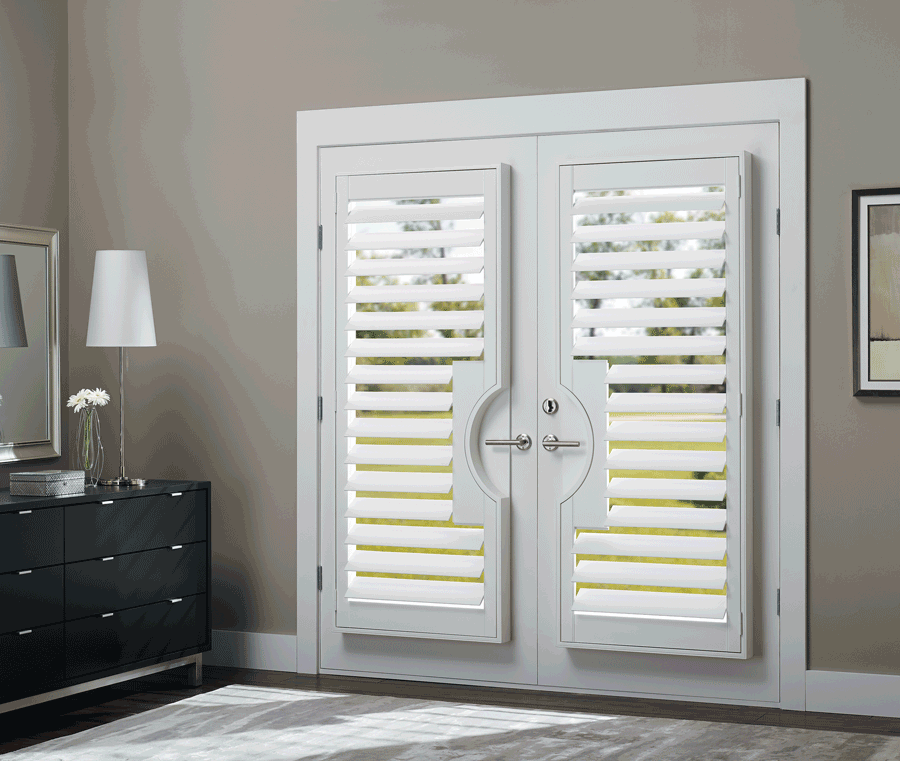 The beauty and distinction of plantation shutters will add timeless style in your home. Make a style statement with light control, comfort, privacy and UV protection. More questions? Let us know! We'd love to help you find the perfect plantation shutters for your home today. Contact our team, at California Window Fashions, for a free, in-home consultation.