Craving something new for your California home? Wanting to increase comfort and convenience in your life? Look no further than roman shades. Posh and functional, roman shades will bring you and your home to the next level. They add beauty and style to any room and can be customized to fit as well as accentuate specific design elements and needs. Plus, they boast high standards for energy-efficiency, ease-of-operation, and other benefits that make them the perfect addition to your home and a convenience that you won't want to live without.
Sophisticated Style
Whether you love traditional classic charm or upscale modern designs, our Vignette Modern Roman Shades will add sophisticated style to your home. Full folds lend themselves to a soft, contemporary look, and flat folds present a defined finish for crisp, clean lines. Selecting the right fold will enhance the beauty of your room and highlight all of your decor choices. Plus, roman shades are perfect for windows and doors, so you can keep the flow of open concept areas in your home. As an integrated backdrop, they will make a coordinated statement.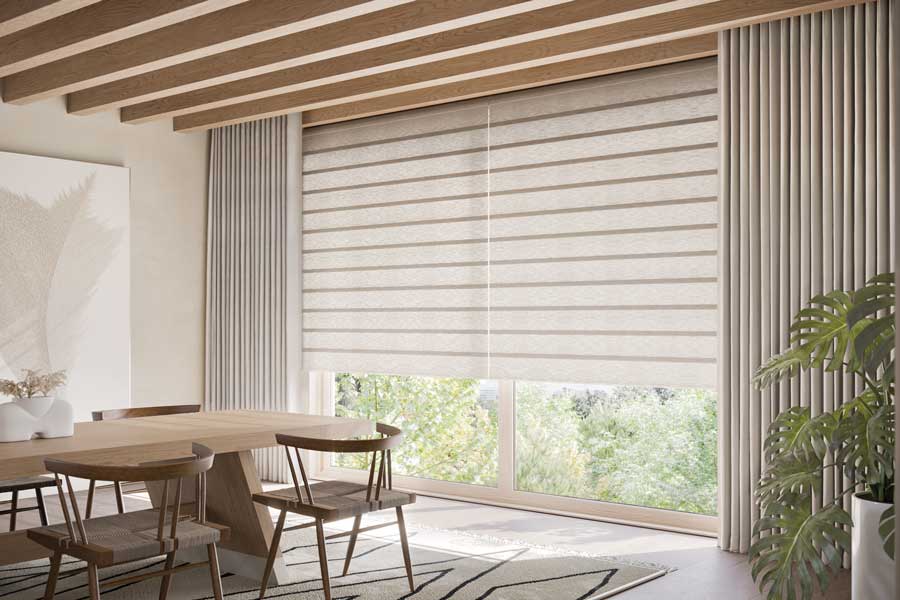 Customized For You
Your home is unique, and you should accent those one-of-a-kind design elements. Here, customization is key. Vignette Modern Roman Shades add refined elegance to even the most exceptional features. They are stunning on arched, angled, and circle windows. Large expanses of glass, such as bay windows and sliding-glass doors, look top notch. Perfectly fit for your home and perfectly beautiful. What could be better? The ability to select the ideal fabric transparency to suit your specific needs for light control and privacy comes close. Whether you want to softly focus the view outside, diffuse light to reduce glare, or virtually block out all light, you can. With a range of fabric options from sheer and opaque, you can find the right amount of light and privacy for every window or door. Customization truly makes the perfect fit for your home and your lifestyle.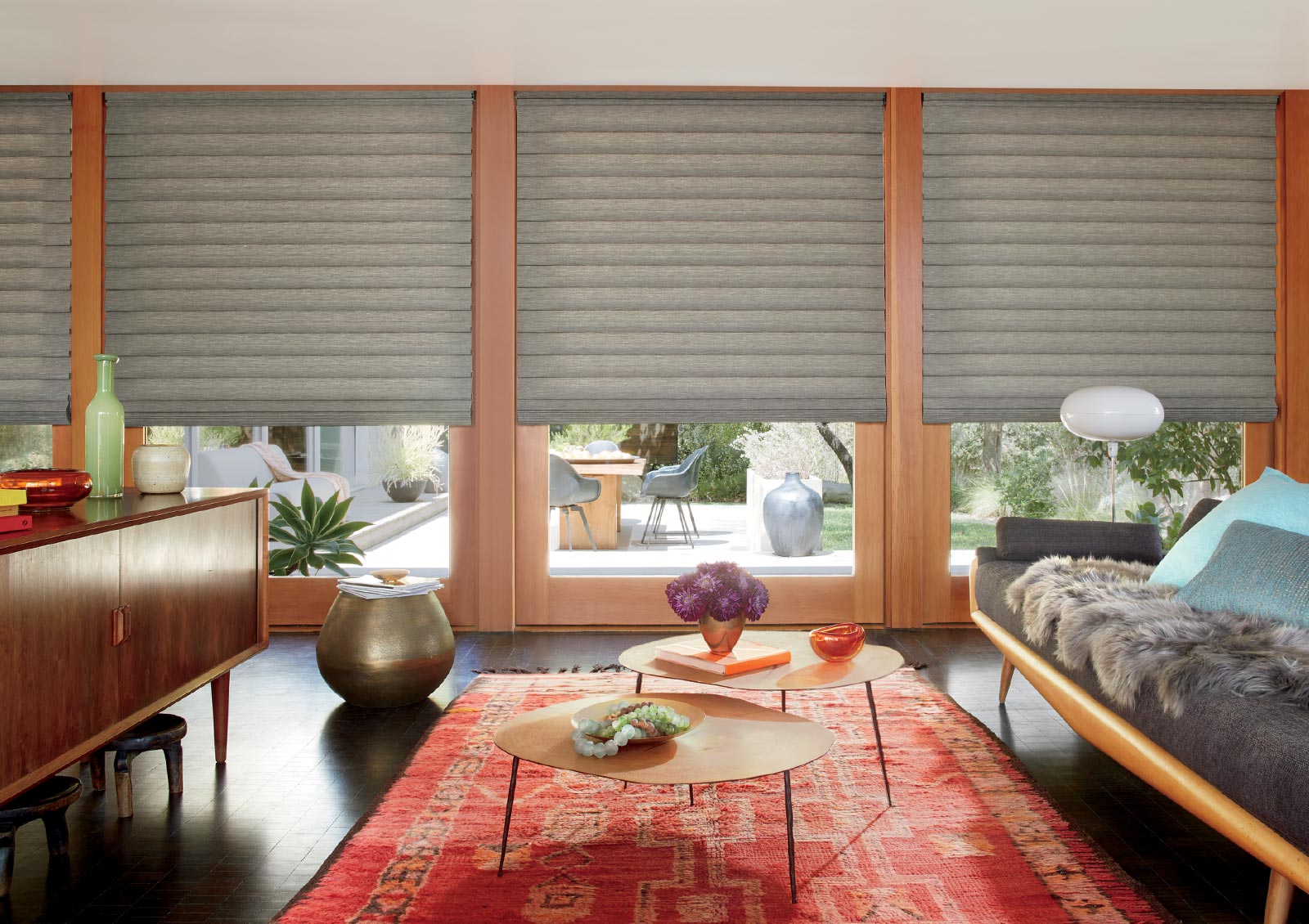 The Height of Convenience
Energy-efficient, effortless operation, and added benefits make our Vignette Modern Roman Shades luxuriously convenient. Designed to trap air at the window, they create a layer of insulation to help maintain a comfortable, consistent temperature throughout your home regardless of the weather outside. Energy-efficiency made easy!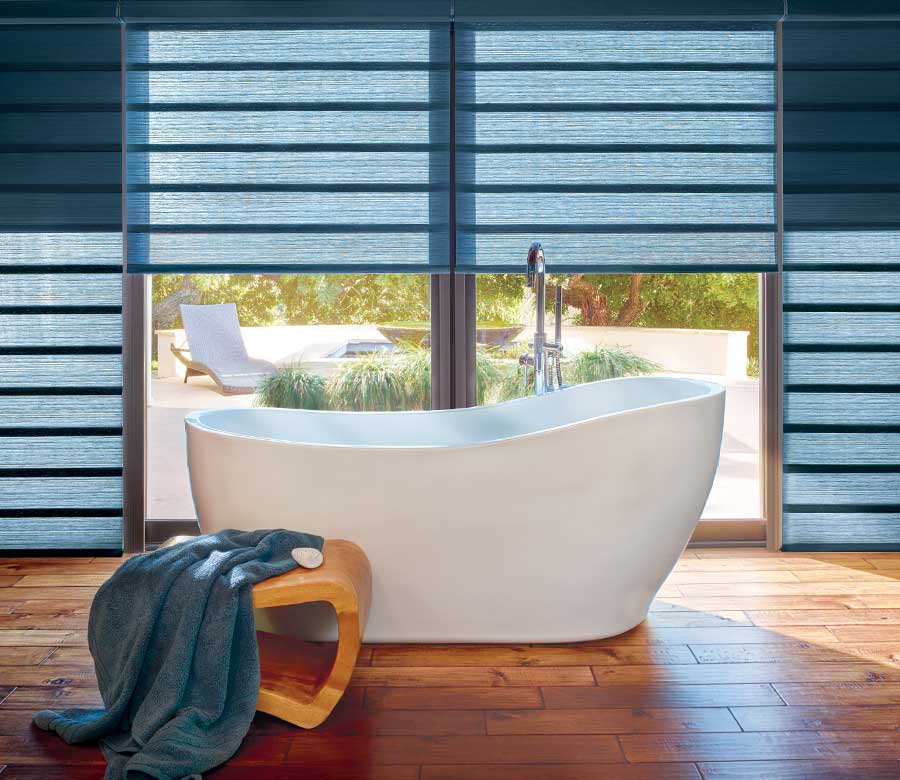 Opening and closing your shades has never been easier, either. Options for simply pushing or pulling them with your hands and using a retractable cord are great, but the ingenuity of PowerView is unmatched. Tap your smartphone or tablet, or use the Pebble remote, for motorized control of your shades. Or, just let PowerView do all of the work. Set and save scenes and schedule them to occur automatically while you do the more important things in life. Ready to hear more benefits? Yes…there are more! Treated to repel dust, soil, and stains, our Vignette Modern Roman Shades will do most of the cleaning for you! You can also select fabrics that improve the acoustics of your rooms and reduce outside noise. Plus, roman shades protect the interior of your home from harmful UV rays–keeping your furniture, flooring, and artwork pristine. What more could you want from your window coverings?
Customized to fit your unique spaces and needs, roman shades will bring style and function to your home and your life. Adding beauty, light control, and privacy while boosting energy-efficiency and convenience, you'll wonder how you ever lived without them. Our design experts are waiting to help you customize and enjoy roman shades in your home. We'll help you assess lighting and find the mechanics, fabrics, and features that are just right for you. Contact our team at California Window Fashions for a free, in-home consultation today.