If you have those large windows in your home, you are very well aware of the amazing benefits they offer! For instance, they highlight incredible views and can bring in a ton of natural light. They can also cause some frustration. As a homeowner, you may find that you have a love/hate relationship with your windows. We have the best ideas that will help you showcase what you love most about them while also solving the common issues you face.
So Long to the Fishbowl Feel 
There is a definite connection between those large windows and a lack of privacy. You may feel like you are in a fishbowl in your own home. If you want privacy, but do not want to give up the natural light that comes in from the windows, we have an option for you. Top-down shades allow you to enjoy all levels of lighting. Now, you can easily enjoy some privacy! A great feature of top-down shades is that you can still catch some of the views by adjusting the shades down enough to reveal the sky, treetops, or skyline!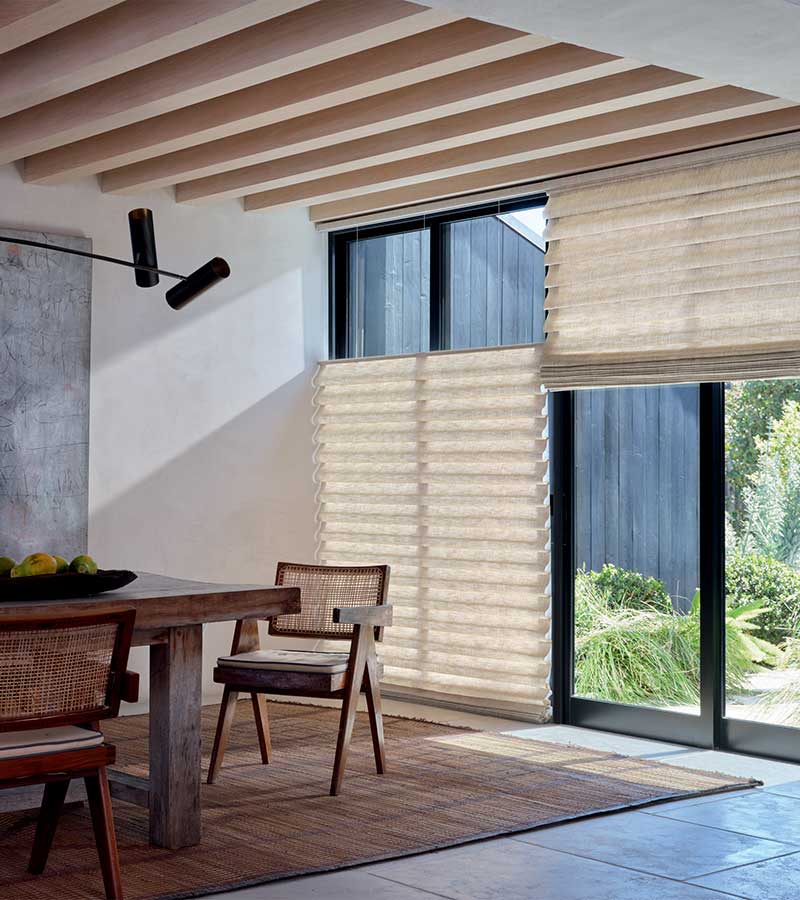 Embrace the Open Floor Plan 
If you have those large windows, you may have an open floor plan as well. An open floor plan tends to have contemporary features like big windows. Do you find yourself wondering how to cover them, but maintain the style and function of your space? In a recent article about window coverings for an open floor plan home, we shared ideas on how to apply them to your home. It's key to remember that you do not have to settle for style or function. As a homeowner, you can have both!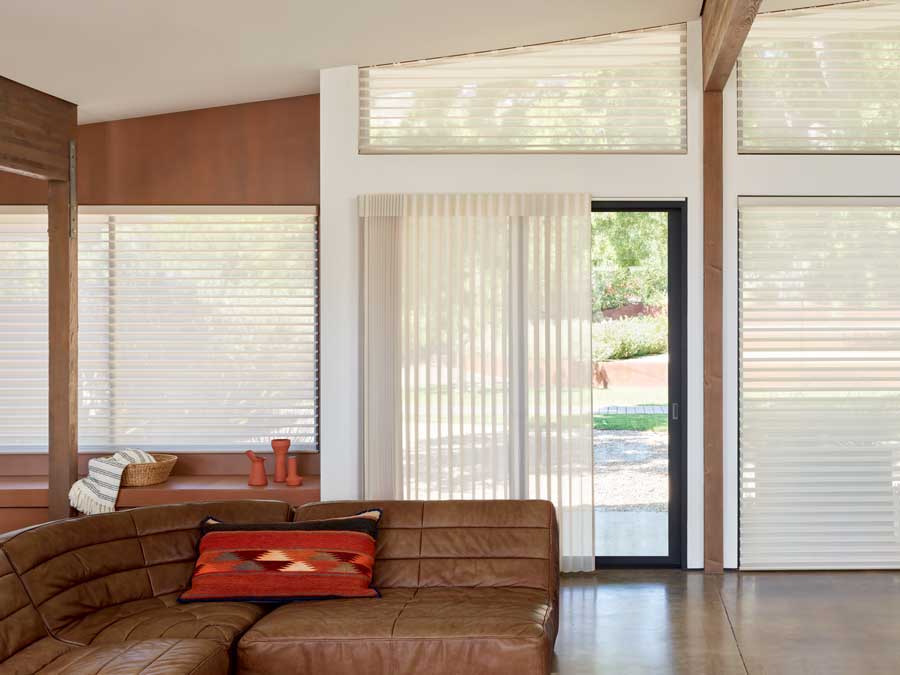 Custom Coverage
You may feel overwhelmed when you start thinking about window coverings–wondering "Do I have to cover the whole window?" In short, the answer is no, not unless you want to. With custom shades, they will be designed to enhance the look and feel of your home. Some clients have arches or angles in their homes that they want to keep on display, but they want to cover the rest of the window. Others may have a wall of windows that include transoms. It's a choice to either cover the transoms or leave them bare. The great thing about custom shades is that you can do what works best for you! If you want to allow additional natural light in, you can. If you choose to cover the whole window, that's an option as well.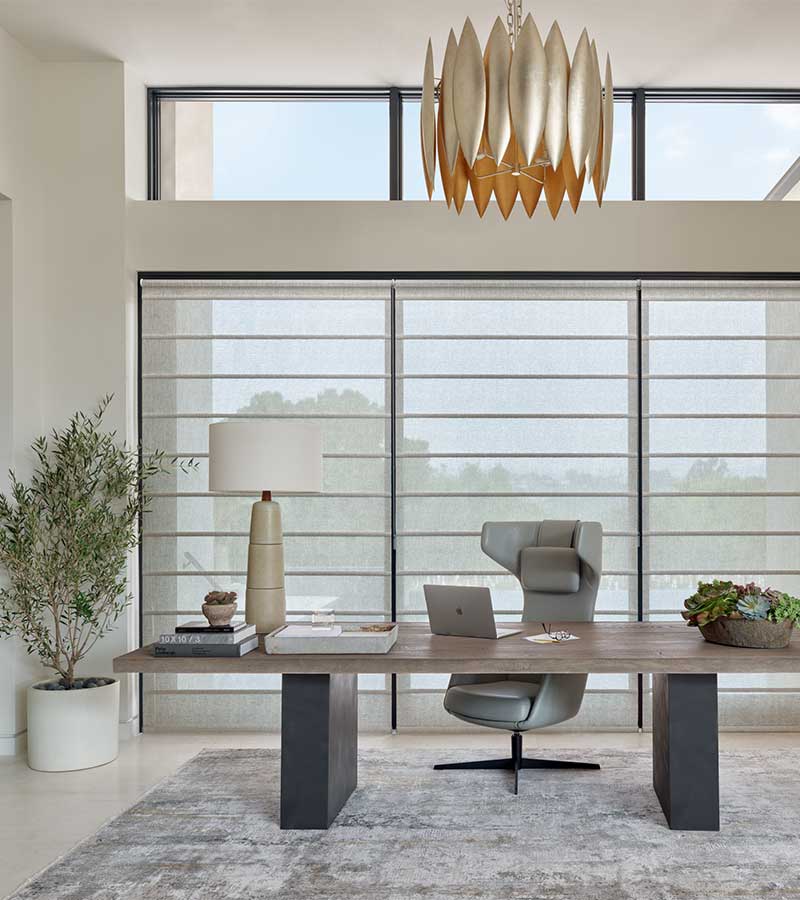 Enjoy the Views 
The floor-to-ceiling windows in your home probably mean that you have a great view that you're not wanting to sacrifice. We have an article on the best shades that will enhance your view. It easily helps you reduce the glare, direct the light and savor the view in front of you. 
Adjust Your Shades 
A good operating system is key. You want to make sure that you have one that allows you to access a variety of lighting controls and privacy. Consider smart shades because they are one of the best ways to get the most out of those large windows. You will no longer have cords dangling everywhere and nothing is out of reach. It is convenient, clean, and simple. An additional feature of smart shades is that you can set up a schedule for opening and closing the blinds. This can also be done with voice commands. On top of that, they are easy to integrate into your already existing operating system if you have one in place.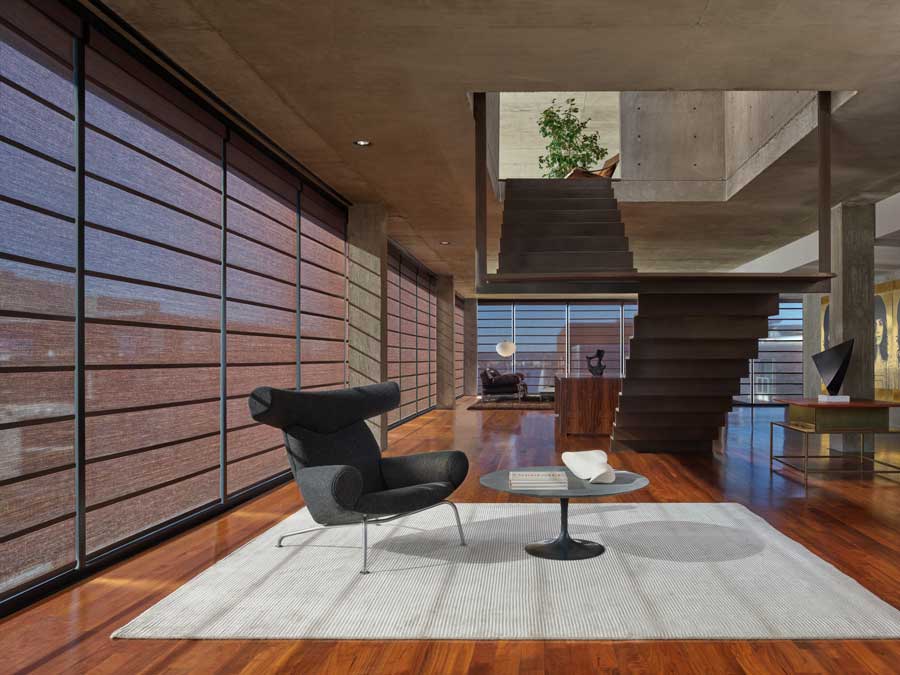 Love Those Large Windows Again 
Are you looking for something specific or need assistance pinpointing exactly what you want? Our team at California Window Fashions is ready to help! Contact us today to schedule a FREE in-home consultation. Our expert designers will bring expert product knowledge, design advice, and fabric samples right to you. Let us help you find the perfect window coverings for those large windows!