Tricky windows can come in many forms. They have unique designs, specialty shapes, operation and layout challenges. The biggest challenge they present? How to cover them without losing what makes them special. Their shape, function, or size may make them difficult to work with, but we're up for the challenge…
Specialty Windows
As you may have guessed, arched and angled windows are the most common type of tricky windows. They add a wonderful design element to high ceilings and entryways. However, they can bring too much heat and light, with not enough privacy. These type of windows need to have custom window treatments so your home can function to its full potential.
Angled Windows
Possessing character and unique design, angled windows enhance your home. It may seem like finding window coverings for them can be challenging. This is not the case because there are many options! Plantation shutters, window shades, and blinds are all great choices for angled window coverings.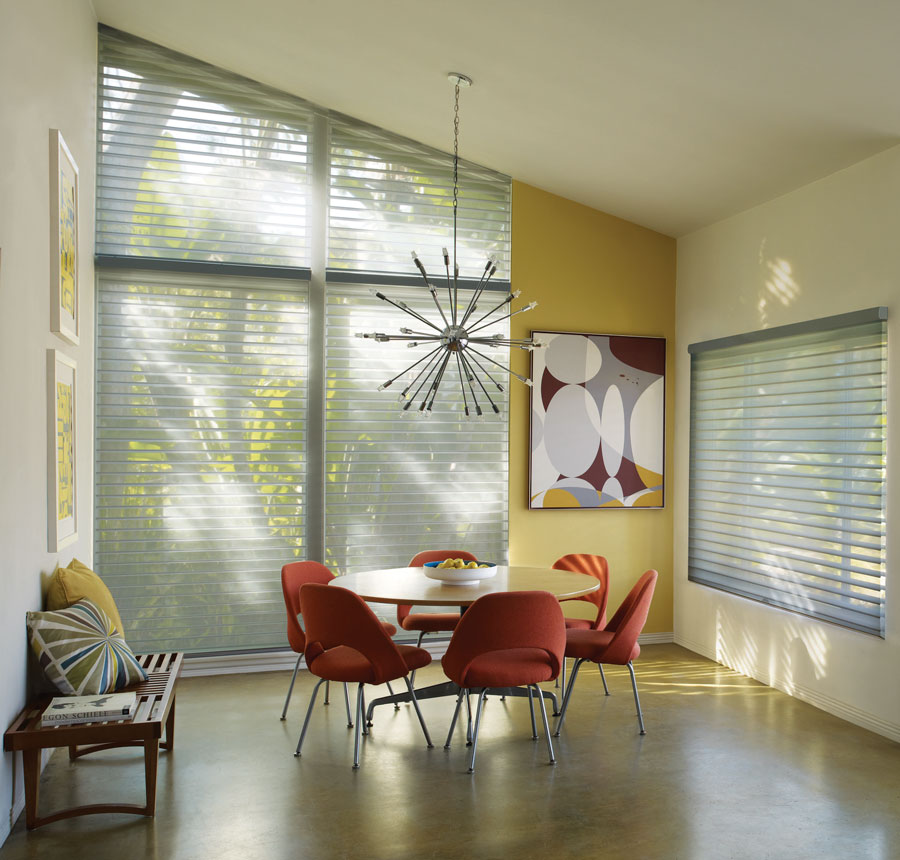 Arched Windows
Similar to angled, arched windows work best with custom treatments to maintain the design and character you enjoy, while offering solutions.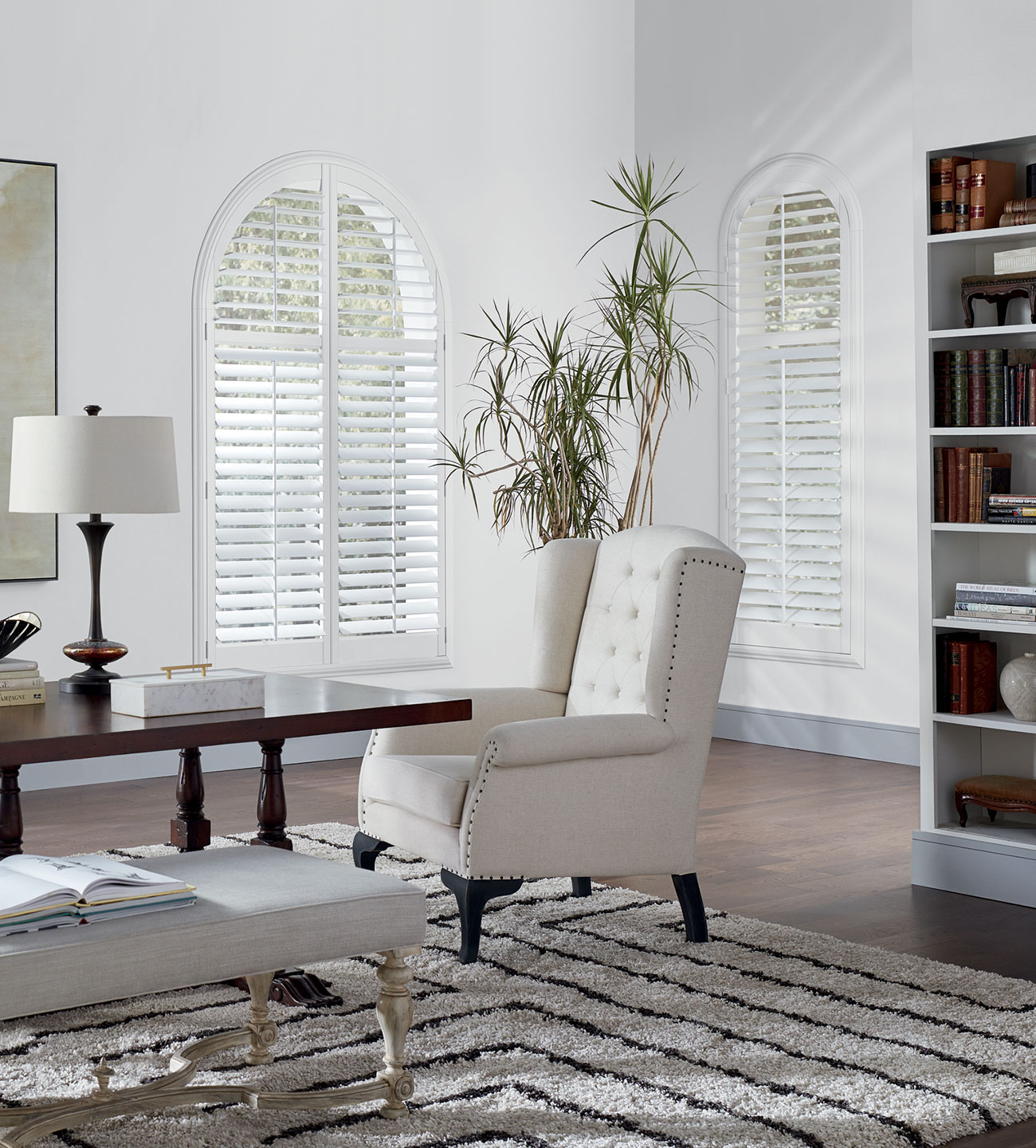 In some cases, the whole window is covered. In others, leaving the arched section allows for a steady amount of light control at all times. This is visually appealing from the outside or inside of the home.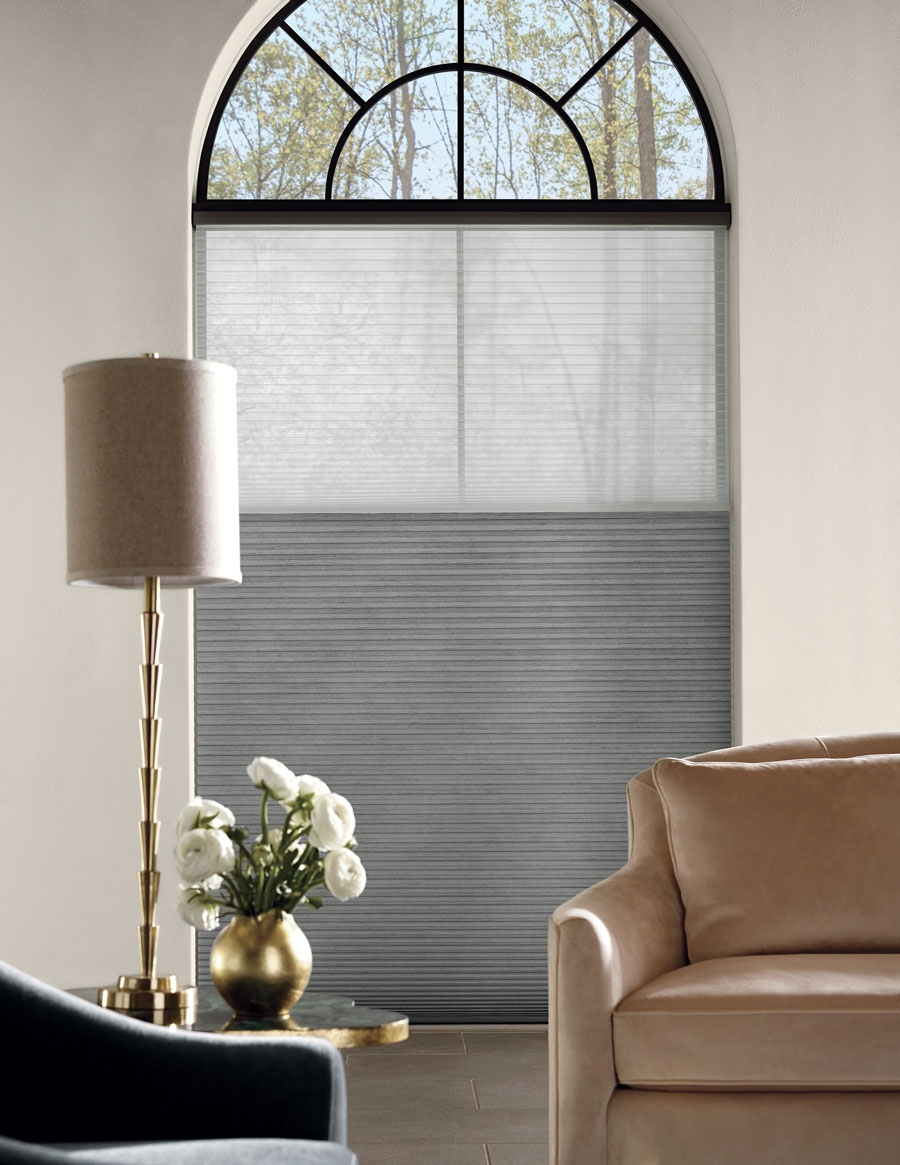 Tilt Turn Windows
Tilt turn windows, also called European style windows, are growing in popularity. They can be opened like a door in one position, or tilted in at an angle for another. An airy, open concept to the outdoors is achieved. This is often at the top of the tricky windows list.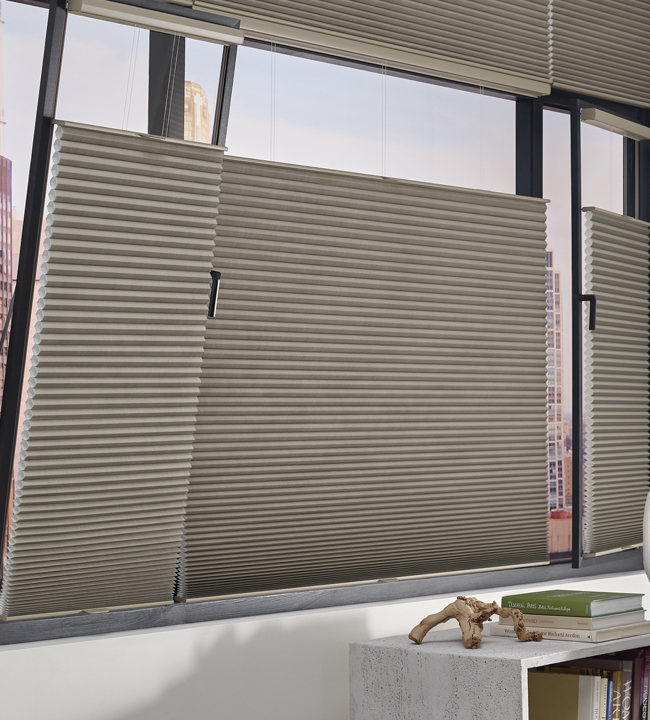 The TrackGlide™ System was developed with tilt turn windows in mind. The windows covering can slide up and down on a track. The track runs right along the window's frame. With the capability to achieve daylighting with top down, or to sleep better at night with room darkening, TrackGlide™ is solving the challenges of these unique windows.
Window Placement for Tricky Windows
Standard windows–that you wouldn't normally label as tricky–can quickly become difficult when trying to cover them.
Bay Windows
Whether it's a breakfast nook, reading area, or living room addition, your bay windows make your home unique. It's important to continue your home's vibe even into these areas. These windows can often seem too close together and slightly crowded when being covered. Turn to inside mounts and low profile window coverings for the perfect solution.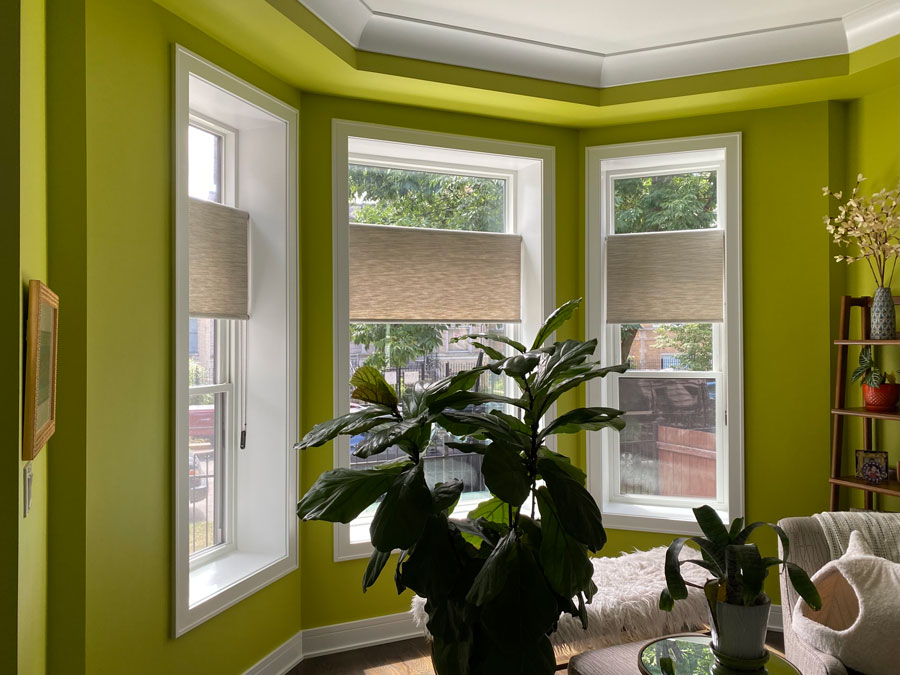 Corners
Windows that extend to the corners have great design appeal. But, what about functionality? Blocking the light and diffusing the sun's rays can seem unattainable. We've got some ideas for these tricky windows. Depending on the ways the shades meet the in corner will be vital to solving issues–the way they roll, how they adjust closed–we'll figure out which system works best for you and your home.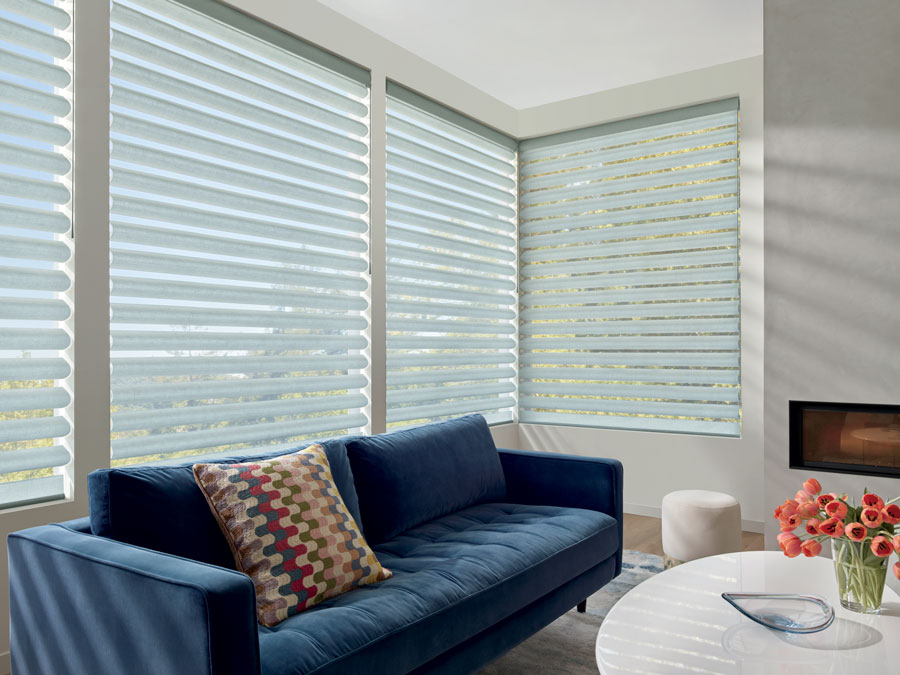 Transoms
Wide and short rectangular window openings called transoms, are a popular design element. They rely on the many benefits of daylight. They let in light near the ceiling, different from other windows. Should you keep them open or cover them? That is completely up to you!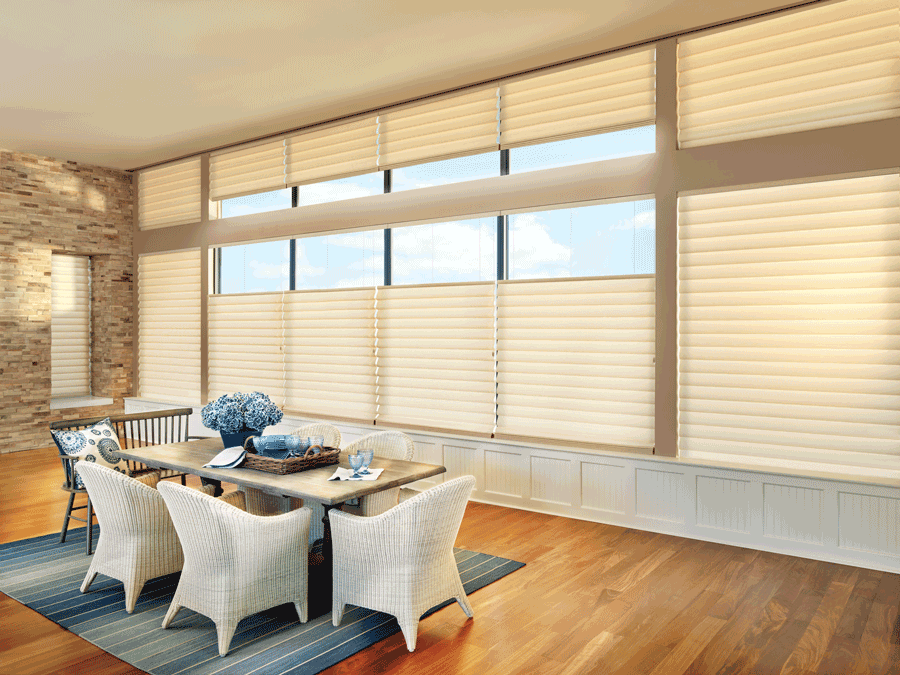 The picture below has shade from a tree outside as well as a dark ceiling. These combined features make it unnecessary for these transoms to be covered.  Your style and home's characteristics will help decide the best choice.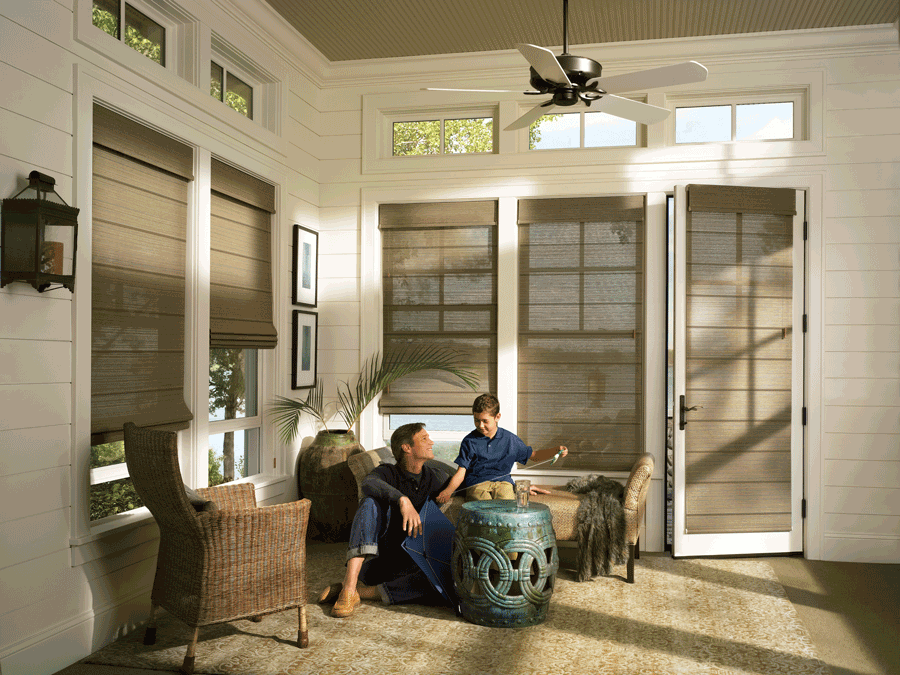 Skylights
The unique light and view that skylight windows can offer your home is incredible. But, letting all of that daylight flood your home can raise some issues. A great solution is SkyLift® with our collections of honeycomb shades. You'll control that intense, direct light, while keeping the heat out of your home.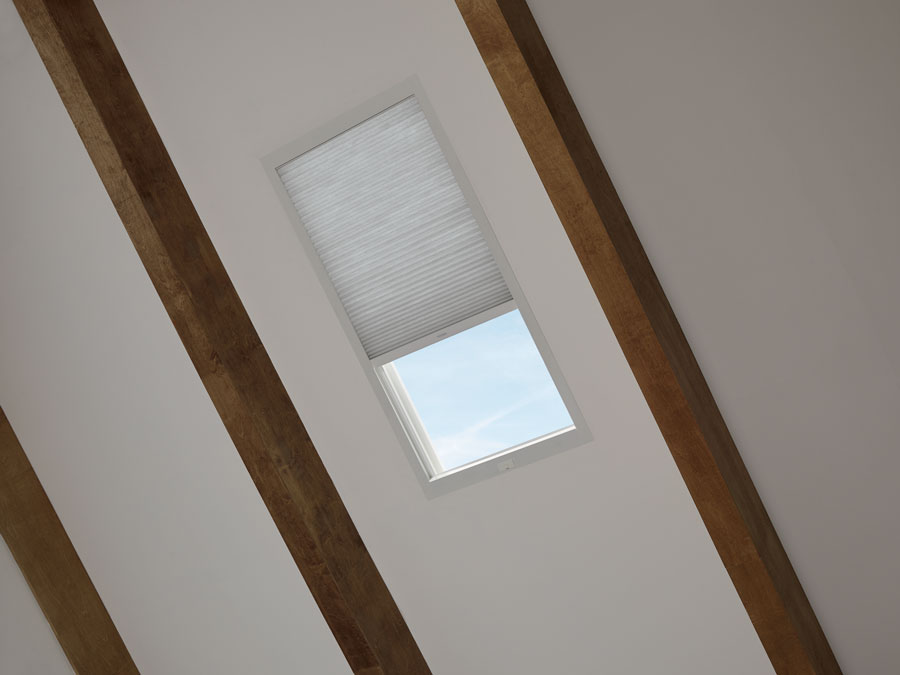 Get to Tackling Tricky Windows
Where there are tricky windows, we will provide solutions. Our team at California Window Fashions is here to help you tackle those unique and special windows. Contact us today for a free design consultation.