Home decor and interior design style trends are always changing. We have window covering styles that fit with nearly every type of style out there. While changing trends can change, what really matters is your taste and personality when it comes to picking out the perfect window treatments for your home.
Styles to Trade Out
It's important to make your house feel like a home. Doing so takes personal touches that speak to you and functionality that meets your and your family's needs. There are some dated treatments that we see many of our clients ready to get rid of for a new style that works wonders for their windows.
"HAND ME DOWN" WINDOW TREATMENTS
Oftentimes, people will leave the window treatments when selling a home. This means when you move into a home, you may inherit some window treatments that are less than perfect. If they're not meeting your light control, energy efficiency, privacy or style, it's definitely time to switch them out!
BROKEN OR DAMAGED BLINDS
Over time, it's not uncommon for blinds in high traffic areas to become damaged or broken. Being jumped on by pets, pulled on by children, or bumped into while coming in the door with tons of grocery bags can all cause damage after years of use.
WINDOWS WITHOUT TREATMENTS
We understand not wanting to block the view, but windows with no treatments can bring a host of issues. Terrible glare, higher interior temps, and lack of privacy are just some of the problems that the right treatments can solve. And, with many of them, you can still enjoy the beautiful view and natural light.
"ALL THE SAME" WINDOW TREATMENTS
We know that once people find something they love, they like to stick with it. But anymore, window treatments aren't necessarily something you should have all the same throughout your home. With windows facing different directions and having different needs, it's important to consider a few different treatments that can work best in each space. The idea is to focus on coordination, not all matching.
Elements to Bring In
There are several new features & trends in window covering style that we are eager to share with everyone.
WINDOWS WITH BLACK TRIM
Painting window trim black is all the rage right now. We are here for the trend–and can help you enhance it! The right window covering style will provide you the functionality you desire, while also allowing you to admire that beautiful, contrasting trim.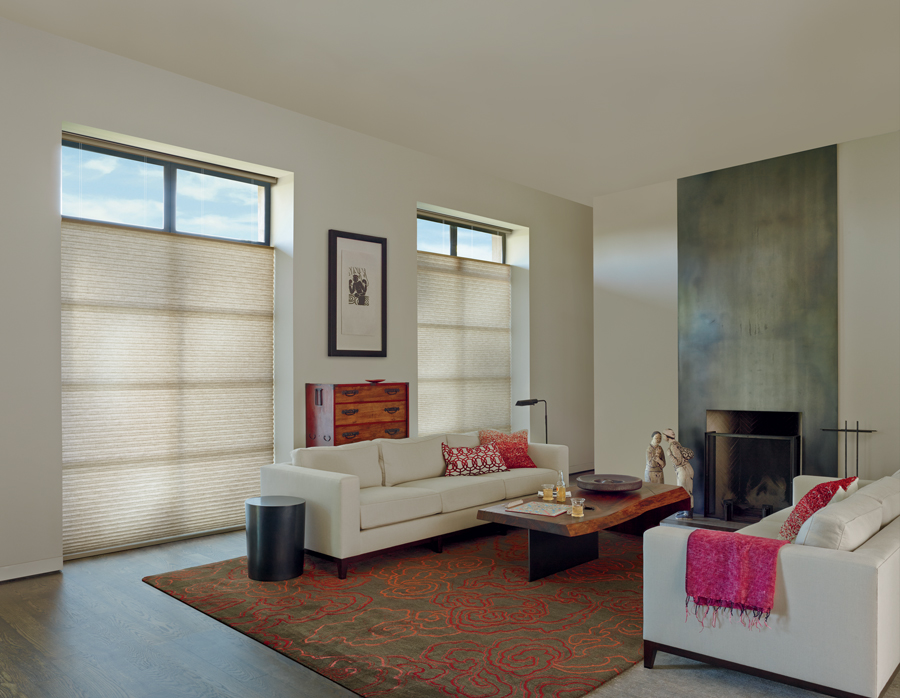 DUAL SHADES
Dual shades are one of our more popular choices, and for many reasons! The practicality of having two shades in one is truly unmatched. No matter the time of day and strength of the sun, dual shades can make the atmosphere in your home comfortable for everyone.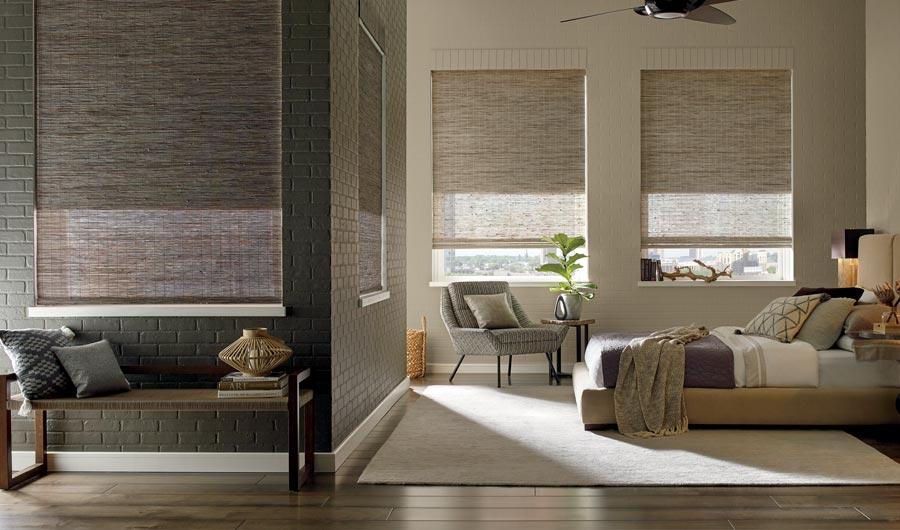 SMART HOME TECHNOLOGY
Motorization in window coverings has been around for awhile now. But did you know that you can now link certain smart treatments to your smart home systems and have even more added convenience. Voice controlled adjustments, programmed movement to fit your schedule, adjustments from anywhere…what's not to love?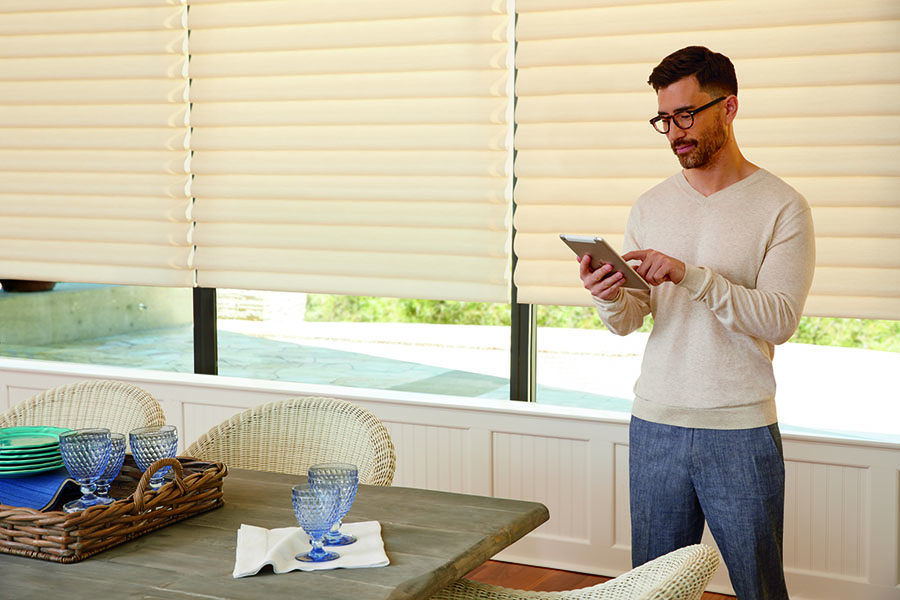 COORDINATION IS KEY
While picking a matching window covering style for every single window in the house is out, selecting coordinating treatments that feel cohesive is definitely in. Treatments that have similar colors, textures, and overall style create a cozy feeling that will help elevate any room.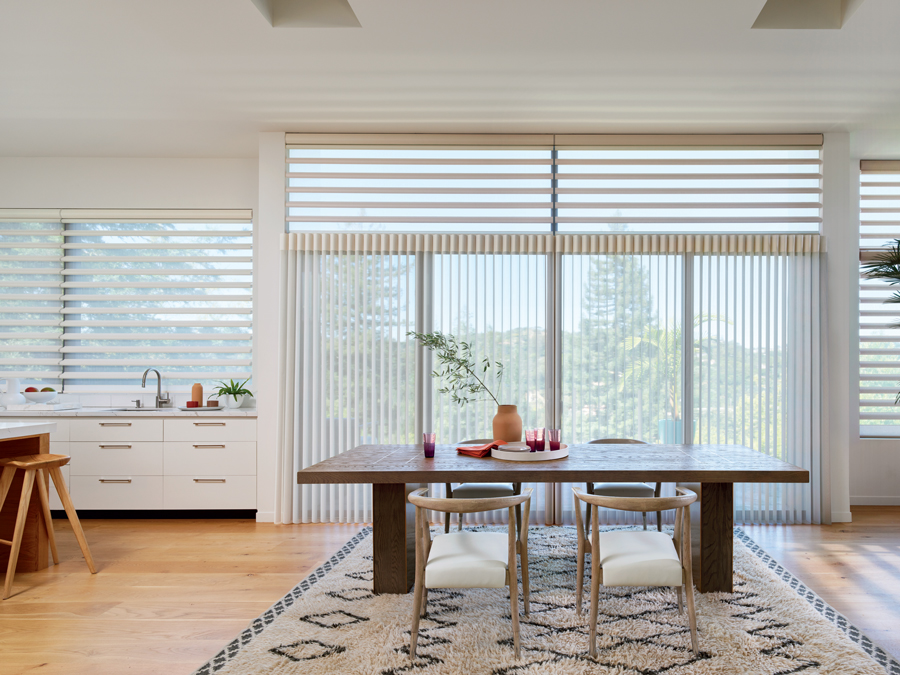 Let Us Help You Update Your Window Covering Style
Our team here at California Window Fashions is here to help you find the window covering style that meet your style and light control needs. We know how bright and hot that California sun can get, so we know it's crucial to have treatments that allow you to have a cool, serene, and controlled ambiance inside your home. Whether you stop by our showroom or give us a call, contact us today for your FREE consultation.