Our California sunshine is a welcome sight throughout the year, but the intensity can be too much at times, especially if you don't have the proper window coverings for your unique home. The atmosphere of your home is at the will of your windows – and more specifically, which direction they face. You may need to have guidance when shopping for the perfect window coverings, but in the mean time, find the features that will work best for your lifestyle.
East Facing Windows
You understand the beauty of morning light. Quiet sunshine sets the tone for the day. Chances are, you also understand what it means for the glaring sun to be on your last nerve by 10 A.M. You know what it feels like to be sweating in your own home, while the rest of world is experiencing the chill of the morning air. You need window coverings that will let you enjoy the beauty of the sunrise, while shielding your home from intense light. You need window coverings that let light in, while you control the adjustment and amount of that light, depending on your needs and time of day. Consider window coverings that offer the following benefits:
Directional vanes adjust easily for right amount of light
Top/down, bottom/up operation to enjoy natural morning light
UV protection against harmful rays
Energy efficiency to prevent intense heat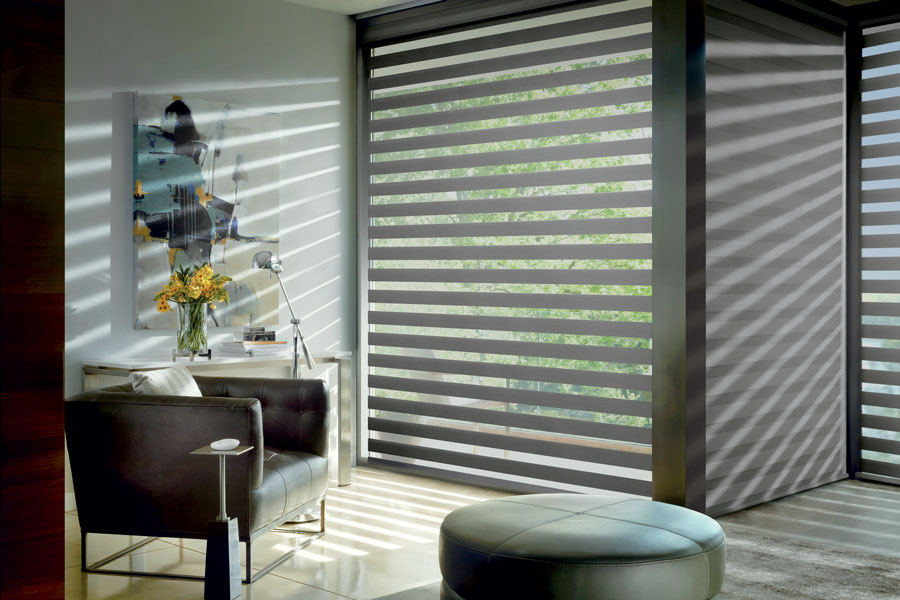 West Facing Windows
You cherish the beauty of sunset, the dramatic colors of evening. Of course, this is after you arrived home to sweltering 100° degree, or sometimes higher, temperatures in your living room. You long to enjoy a meal in the glow of dusk, but your family has a seating arrangement at dinner so no one is forced to wear sunglasses. West facing windows can offer the beauty of atmosphere, but if you are home during the day, you may feel like you are missing out. Solutions? Window coverings can offer your West facing windows these light enhancing opportunities:
Directional vanes for maximum view of your landscape
Reflective sheers provide a filtered, sun lit environment
Daylighting to increase your use of natural light
UV protection against all day sunshine
Energy efficiency for comfortable temperature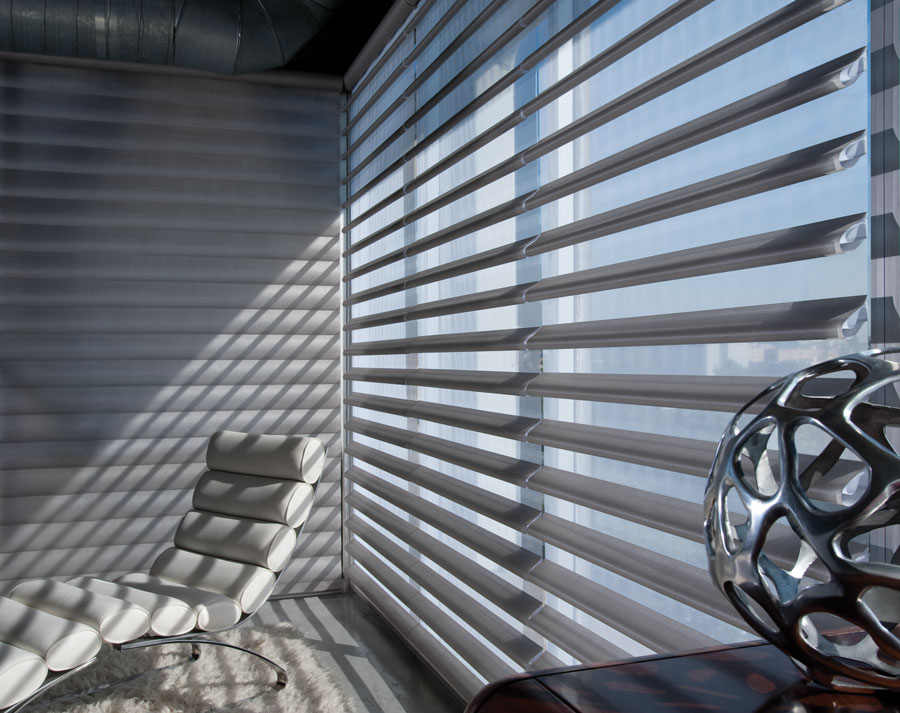 North Facing Windows
Out of direct sunlight, your North facing windows don't provide the intense problems of East/West facing, but with inadequate window coverings, you won't experience all of the benefits you deserve. Make the most of the light with window coverings that enhance your home and your lifestyle. The function of North facing window coverings is one of the most important features, as the adjustment will be the key to creating the ideal environment. Too much sun throughout the day will allow for a constant, unwelcome glare, while keeping your window coverings closed consistently may create a 'cave-like' environment. Experience what the correct window coverings will do for the light in your home:
Reduce glare for a comfortable atmosphere
Increase daylighting for improved productivity
Energy efficiency for consistent temperature
Easy adjustment with your choice of operating system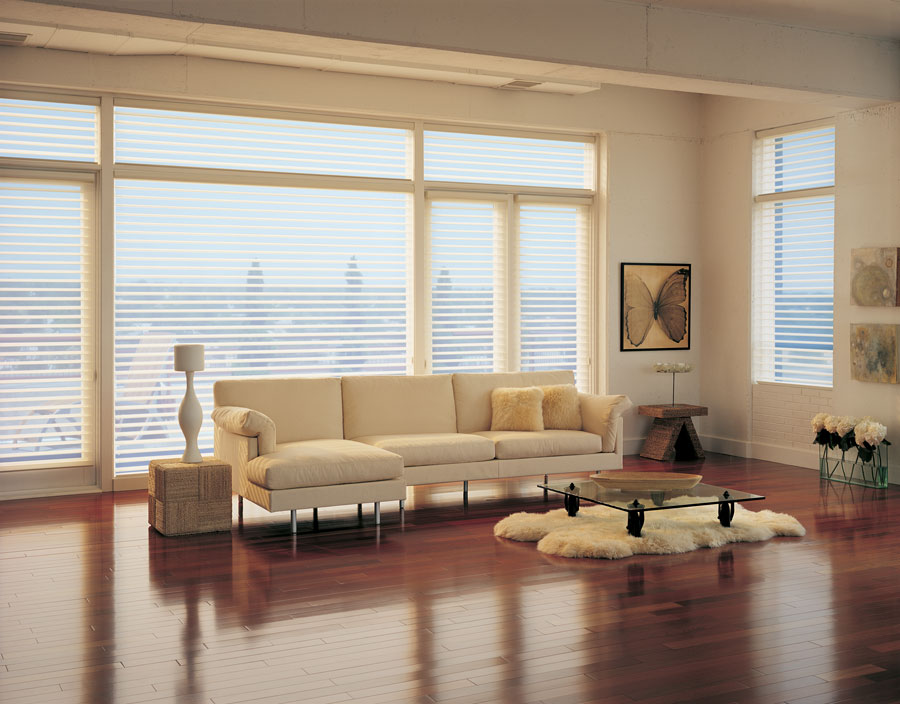 South Facing Windows
In direct sunlight from morning until night, your South facing windows provide intense problems. These are the windows where you often can't escape the light and heat ALL DAY LONG. Experience what the correct window coverings will do for the light in your home:
Reduce direct light for a comfortable atmosphere
Increase daylighting for dynamic productivity
Energy efficiency to keep it cool
Easy adjustment with your choice of operating system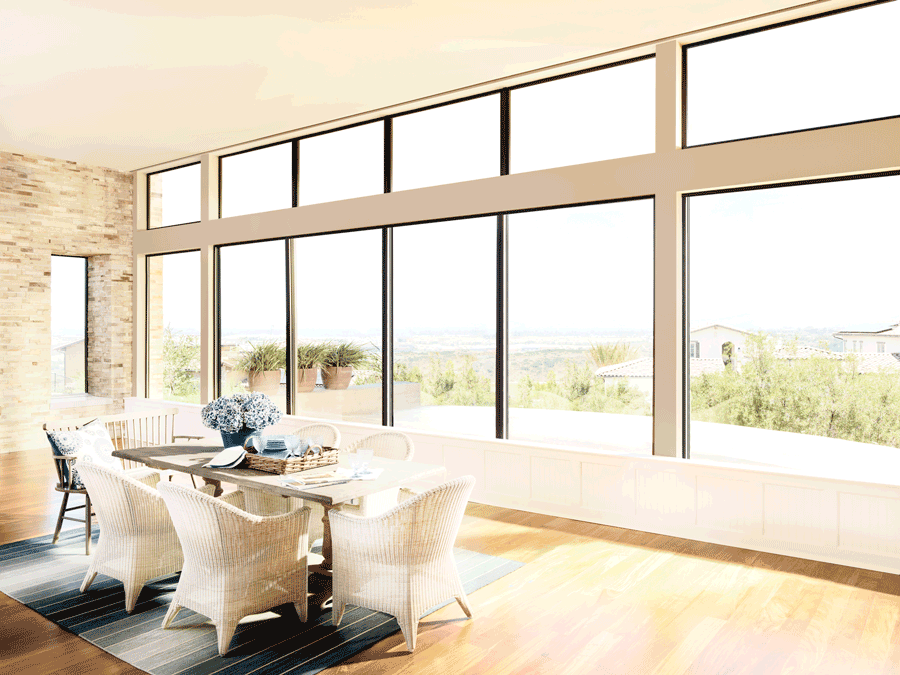 It's time for you to make the most of the natural light available to you! We would love to help guide you through the collections of window coverings that will offer your home the ideal atmosphere, based on the placement of your windows. Contact our team, at California Window Fashions, for a free, in-home consultation.