Anyone who has children will tell you that there's no counter too high and no item that's out of reach. That's why child safe blinds and shades are such an important part of childproofing your home. And, it's never too late. Adventurous and curious, there's no end to the mischief a child can make–at any age. There's also no end to the love we feel for our little mischief-makers. While you can't protect them from everything, your home should be a place of safety. Not only for their everyday adventures, but also for your peace of mind. We've got great options of child safe blinds and shades (and also shutters!) that will fit your lifestyle and your home.
Playtime Should Be Fun…And Safe!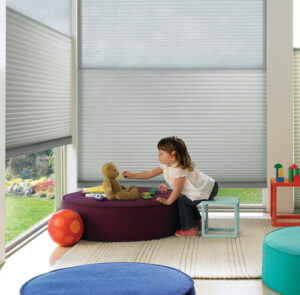 The last thing you want to worry about is your child being in danger within their own home and special places. Child safe blinds and shades offer cordless innovations so you remove the common dangers. Cords are tempting. Children can easily get tangled up. Dangling cords are long enough to strangle a child. It's an awful thought, but it happens. And, as terrible as that thought can be, these accidents are preventable. You cannot afford to take the chance that it won't happen in your home.
PowerView motorized blinds and shades are an incredible innovation towards child safety. No more cords dangle. There's nothing to get tangled in. Child safe blinds and shades are automated for easy and convenient adjustment. Make safety a priority for your family with child safe blinds that can be adjusted on a schedule or in an instant.
Cordless Blinds and Shades…Peace of Mind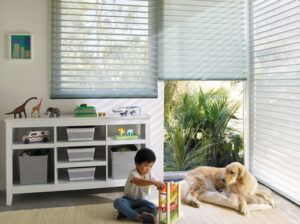 Once upon a time, I would have thought that wrapping unsafe cords up and placing them at the top of blinds would be safe. I thought my 'not so' child safe blinds and shades would be okay. Then, I had my second child. The day I caught him practicing a tightrope walk across the back of the couch–at 18 months!–I knew I was in for a wild ride. It's amazing what they can reach. It's unbelievable what they will choose to play with. And, it's simply not worth the risk. Cordless blinds and shades will give you peace of mind, removing the dangers that dangling cords present.
Child safe blinds and shades should be cordless for the utmost safety. Our LiteRise operating system is a cordless operating system. How does it work? You simply adjust up, down and anywhere in between by using the bottom rail. These child safe blinds and shades stay where you put them. And, your child can operate them, too. It's that easy. They feature the highest levels of safety, and leave you with a relaxed mindset.
When Cords Are a Must…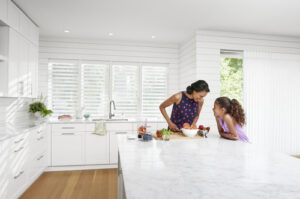 We all have that room in our home where the windows are tough to get to. Whether it's furniture in the way, or just the layout of your home, the windows present a challenge. Why are child safe blinds and shades important? I mean, if you can't get back there to even adjust the shades, what's the difference? Just add children. If you're a parent, there has been a time when you've discovered your little one in the most ridiculous spots. If motorized blinds and shades are not an option for those hard-to-reach windows, you can still make safety a priority with the latest innovations in child safe blinds and shades.
Retractable cords stay well away from little hands, only offering a slight cord at the top during adjustment that retracts automatically. Cord wands offer adjustments, but keep your children safe from tangles. And, when cords are used, the cords can be stabilized in place–attached to the window frame for continued adjustment while staying securely out of harm's way. It's a win-win when you can outfit your home with child safe blinds and shades that match the way your home works.
Safety Prioritizied: Child Safe Blinds and Shades
Your home should be a place of happiness and safety. Give yourself the peace of mind you deserve, knowing that your child's safety is a top priority. Child safe blinds and shades are one of the best ways to create the right environment in your home, removing potential dangers and worry. Our team, at California Window Fashions, knows how important child safety is. We can help you decide which operating systems will work best for your home and lifestyle. Contact us today to get started with a free, in-home consultation.