The Pirouette shade is always a crowd pleaser, and it's one of our favorites too! With the incredible view-through ability and the control you have to take your room from light filtered to completely darkened, these shades have it all. We've compiled all of the latest innovations and possibilities to give you a full rundown of these window treatments.
Which View Do You Want with The Pirouette? 
Clearview® is an enhanced view and is available now for the Pirouette collection! Say hello to such a crisp view that you'll forget you're looking through a window. The black sheer fabric is what makes all the difference.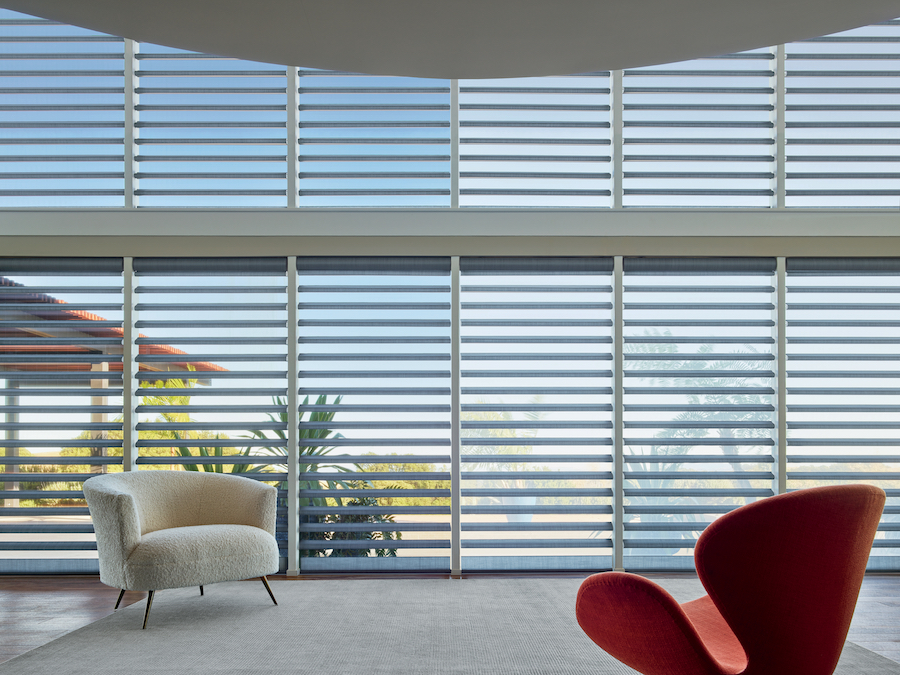 On the left side of this photo, you're looking through the Clearview® shades. The right side features the original sheer backing. Which half of the photo catches your eye? With both options, you get ample light and designer styling. One has a subtleness to it while the other is sharp. Both will completely transform your space.
Coordination Throughout Your Home
Many of our clients face a bit of difficulty when thinking of ways to style the window coverings throughout their open floor plan home. The main challenge is usually finding window treatments that will function perfectly for each space and type of window while also looking cohesive together.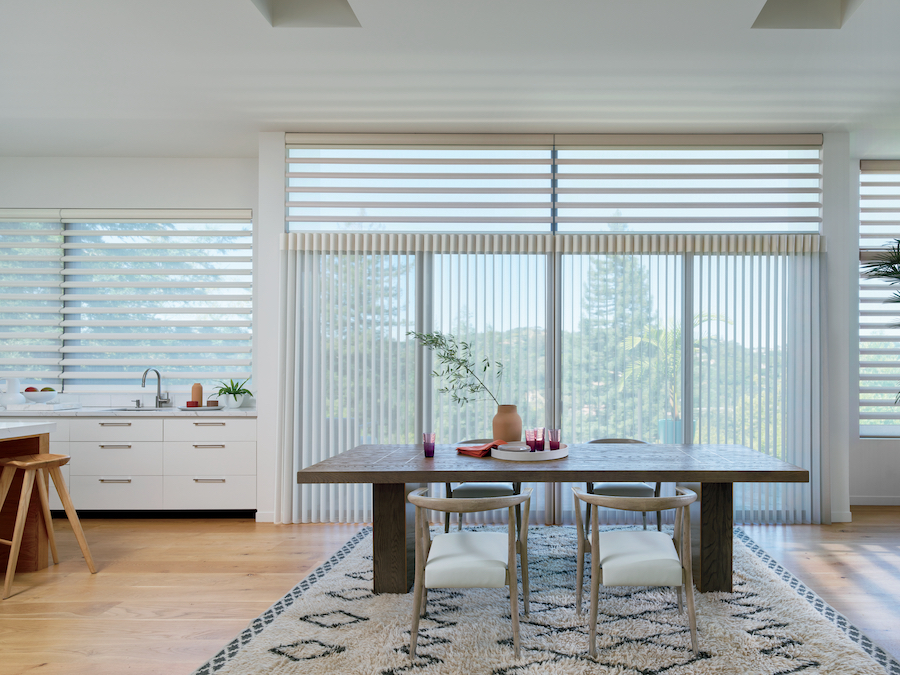 No need to fret anymore! It's not a one size fits all, and we know that. With our products, they are customized in order to match both the function and style you need and want. Even better yet, your home will be safe from UV rays with 81% protection with the sheers in place and 99% when the vanes are shut.
Let's Talk Large Windows
The Pirouette shade is no stranger to large windows. There are a couple aspects that make them a hit for even the biggest windows in your house. First off, they offer an impressive backdrop. Also, you don't have to completely open or close the shades in order to change the natural lighting in your space. Just shifting the vanes slightly will transform the room from a soft, ambient atmosphere to completely dark.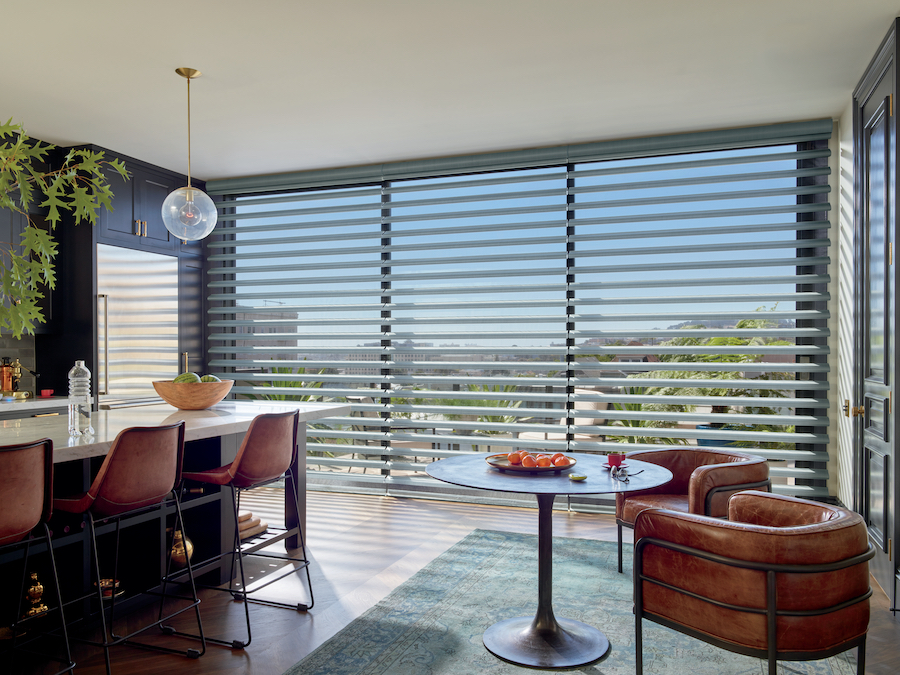 If you still need convincing that these are the perfect shades for your large windows, let's talk about the size of them. For both height and width, these shades can reach 144 inches. This allows you to cover all of your floor to ceiling windows simply. And if you need more than 12 feet wide, multiple sets of Pirouette shades fit together with a minimal gap for a rather seamless look.
How They Operate
We won't dive too far in as to bore you, however, it's important to note that the Pirouette can be paired with automation. Think, just one tap of a button can switch your shades from open to closed. The SoftTouch™ system is another way to motorize these window treatments. This system includes a wand on one of your windows for complete ease of use.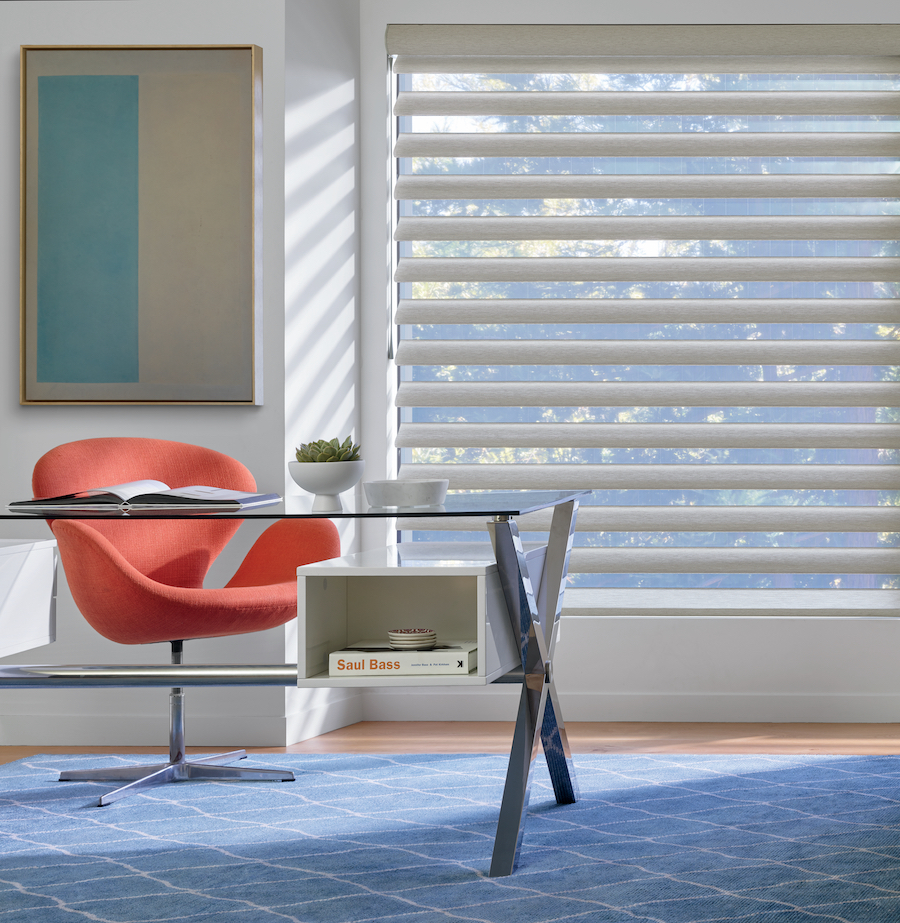 And if you're a fan of the cords that you're used to, we offer those, too! Even better, both options with cords are child safe. Ultraglide features a shorter cord that retracts into the treatment. While EasyRise is a continuous cord loop fastened securely to the window frame. 
The Pirouette collection has always been a show stopper, but they're even better than before now with the new fabric options, innovations, and larger sizes. We can help you pick out the perfect choices to meet the style and function your home deserves. Contact our team at California Window Fashions today for your FREE consultation.